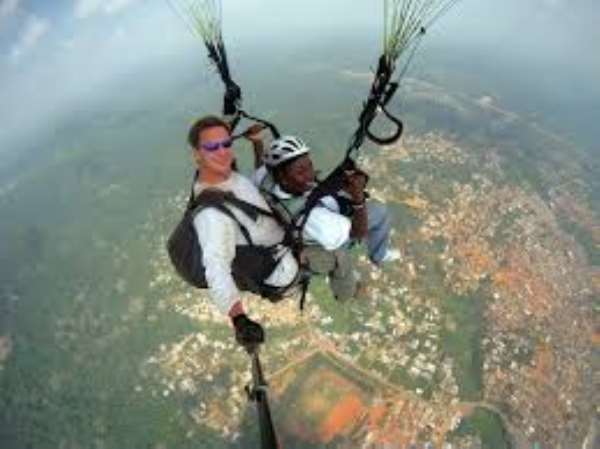 paragliding
Easter is here with us again. It is a season dedicated to the death and resurrection of Christianity's founder, Jesus Christ. Easter is marked as a public holiday in many parts of the world.
In Ghana, Easter is viewed more than just any other holiday - it is a festival. So where are some of the locations you could potentially spend your Easter? Online property portal, Lamudi Ghana , lists five Ghanaian hangouts to spice up your holidays.
Kumasamba Labamba
This is one of the most exciting locations for those looking to relax on a cozy beach. Kumasamba Labamba is located at South Labadi, which features a restaurant, music, and an environment conducive for swimming. Those looking to throw a party at the location can be guaranteed of a fun-filled experience.
Place to lodge
Tourists can equally rely on Olma Colonial Suite for their accommodation needs. The property's distinct colonial look is reminiscent of the good old days in the nation's capital. Located in the ever bubbly Osu neighborhood and situated near the iconic Osu Castle, Olma Colonial Suite is the perfect destination for Accra travelers.
Cape Coast live band street jam
Everyone has their own peculiar way of celebrating Easter. In Cape Coast, a street jam serenaded by live band music is the customary practice during Easter. Patrons are treated to all kinds of music hits while dancing and partying away.
Place to lodge
Wondering where to spend the night after partying hard? Sanaa Lodge is the place to be. Recognized as one of Cape Coast's leading hotels, Sanaa Lodge features all the amenities you'll be looking for. A swimming pool, a full service restaurant, and a fitness center to keep you in shape. What's more, each of the hotel's rooms has a breathtaking view of the Atlantic Ocean that would linger in your memory for years.
Rattray Amusement Park
Hailed as one of West Africa's biggest theme park, the Rattray Amusement Park is a good location for an Easter celebration in the Ashanti Region. Located in the 'Garden City', Kumasi, the park is truly an embodiment of environmental conservation. This location is perfect for families with kids because of the dedicated children's section it features.
Place to lodge
The Royal Basin Resort, meanwhile, is the answer to your accommodation problem. Also located in Kumasi, it features all the amenities you would expect a guest house to have and much more. The best part is that booking can be done online on as well.
Mole National Park
Another of nature's finest, the Mole National Park has thrilled tourists for years unend. Located in the Savannah region of Northern Ghana, the park offers a walking and driving safari depending on your preference. Both are excellent choices to gain a firsthand experience of nature's wildlife animals.
Place to lodge
Zaina Lodge is your home away from home. The accommodation features quality amenities and service to ensure you don't ever get homesick. Its architectural design, paintings and engravings is synonymous with Africa's rich cultural history.
Kwahu Festival
There can never be an Easter celebration without talking about Kwahu. The Easter Regional community is responsible for taking Ghana's Easter celebrations to greater heights. Featuring street jams, mountain hiking and paragliding, the Kwahu area is the place most Ghanaians and tourist fancy for their Easter celebrations.
Place to lodge
Jays Lodge can serve your accommodation needs while you party away in Kwahu. The aesthetic lodge is located on the hilltop of the Kwahu area overlooking the Obo township.