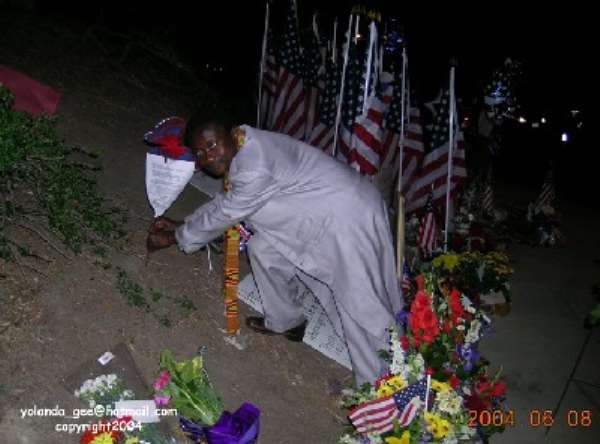 While Conceding Electoral Defeat CPP Parliamentary Candidate for Nhyiaeso Constituency in the Ashanti Region, Kwame Appiah Boateng, popularly known by Ghanaian Communities around the World as "Kwame Mayor" has proclaimed "Moral Victory" while conceding defeat in the just ended Ghana's Parliamentary election.
Boateng conceded defeat to Dr. Richard Anane, Minister of Roads and Transport and NPP's Parliamentary Candidate, yesterday on Fox FM before learning that the Electoral Commission was allegedly investigating the results which gave the Minister of Roads and Transport the winning figures.
" For the sake of Peace, Unity and Democracy, I congratulate Dr. Richard Anane, the Minister of Roads and Transport on his election victory" said Boateng.
"Kwame Mayor" however lamented that on the last day of campaigning, some of the top NPP Heavyweights like Dr. Addo-Kuffour, Minister of Defence quit their own campaigning to support Boateng's political opponent, Dr. Richard Anane.
"The fact that the Ashanti Regional NPP staged their last Political Rally at my Constituency of Nhyiaeso and assembled some of their top Political Heavyweights to support my political opponent, Dr. Richard Anane speaks for itself" said "Kwame Mayor".
"Symbolically, they don't want to see "Kwame Mayor" in Parliament but it is the same "Kwame Mayor" whose ideas or some of his "similar ideas" have become Monumental in Ghana" said Boateng.
The first Ghanaian born to run for Mayor of Los Angeles praised Government Spokesman, Mr. Kwabena Agyapong who recently admitted on Fox Fm that he read the press release which he (Kwame Appiah Boateng) sent to Ghana's Press in April of 2003 in which Boateng ("Kwame Mayor") first suggested that statutes should be erected in honor of the murdered Judges in Ghana ---- long before the Government-Appointed Judicial Council came with the idea.
" If the honest Government Spokesman, Hon. Kwabena Agyapong had not publicly admitted this on Radio, who in Ghana would have known about the fact that I had a strategic idea of [first] calling for the erection of statutes in honor of the murdered Judges asked Boateng ?
" I still give sincere thanks to God Almighty who gave me the idea of developing a Platform in late 1996 / 1997 calling for the establishing of "Truth and Reconciliation Commission" in Ghana ---
" I thought about how the South African Model of Truth and Reconciliation Commission could be "imported" or applicable in Ghana ahead of time and I am happy that I sent a copy of the Platform to Ghana Embassy in 1997 and the respectable and honest President, --- His Excellency, John Kufuor was humble enough to have received a copy of my Platform in 1999 when he and Hon. Kwame Mpianin visited Los Angeles during a Campaign stop-over.
" I will always give credit to God Almighty who always gives me strategic ideas" added Boateng.
" I also praise God Almighty for saving my life and the lives of members of my household --about a week before the elections when a car almost entered my house and crashed at an electrical pole outside the house.
" It was purely an accident and was in no way related to politics" said Boateng.
" I thank the Ashanti Region Police for their prompt response to the accident and it is my hope that they apprehend the driver who escaped after the accident".
Meanwhile, "Kwame Mayor" says he has declared his candidacy for the 2008 elections and has already began his campaign for Victory 2008 !!!