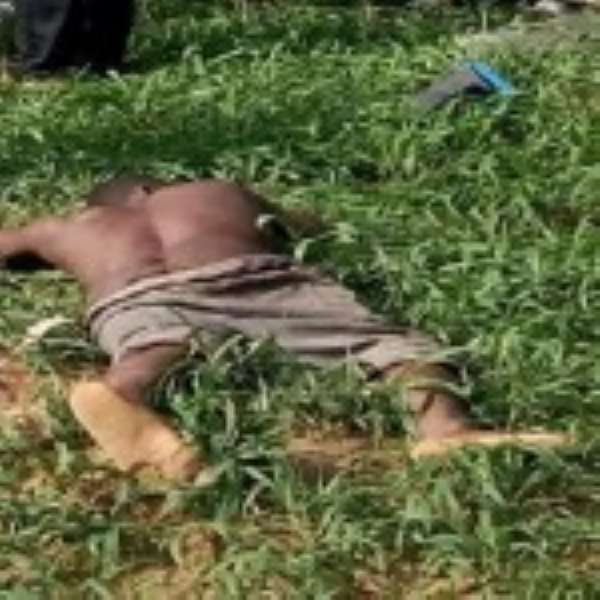 Adongo lying dead
RESIDENTS OF Hwereso near Boankra in the Ejisu/Juaben municipality of the Ashanti Region Tuesday woke up to the disheartening news of a 25-year-old man having allegedly raped and killed a 17-year-old junior high school (JHS) girl before committing suicide.
Adongo Azure, wielding a machete, a big hammer and a sharp knife, was said to have forcibly had sexual affair with Azumah in the presence of the teenager's mother and siblings at about 1:00 am on Tuesday.
The rapist, during the act, allegedly butchered the girl before inflicting serious cutlass wounds on the mother of Azumah, one Comfort Apaka, after which he fled the crime scene to commit suicide by drinking poison.
Madam Comfort Apaka's sister-in-law, who was in the same room with the deceased, was also attacked by the rapist with a machete subsequent to his callous act.

Azumah
The deceased, a final year student of Hwereso M/A Junior High School, was purportedly killed in a horrific manner.
"While we were fast asleep, the known attacker, Adongo, knocked on our door and when the mother opened the door, he burst into the room and closed the door," Ama Emelia, survivor of the attack, narrated.
.
The Ejisu Divisional Police Commander, Chief Supt Laar Baaman, who confirmed the report to DAILY GUIDE, said the lifeless bodies of Adongo and Azumah had been deposited at the Juaben Government Hospital for autopsy.
He corroborated what Emelia had said and added that Adongo had claimed that someone wanted to kill him and so before he died, he too needed to kill someone.
He then demanded that in order to spare the lives of Comfort Apaka and her children – who were then looking frightened – he (Adongo) should be allowed to have carnal knowledge of 17-year-old Azumah.
Comfort Apaka, according to Chief Supt Laar Baaman, consented to Adongo's demand so he (Adongo) started the act in the room and in the process of the criminal act, stabbed the girl in the chest with a machete, killing her instantly.
Adongo, who was then thirsty for blood, attempted to cut the head and hand of Comfort Apaka with the machete but the woman and her other children managed to leave the room and raised an alarm.
The police were called to the scene but by the time they arrived, Adongo had left. The police then took pictures at the crime scene to assist in their investigations.
There were no visible injury marks on Adongo's body so the police chief suspected that he (Adongo) decided to end his life by gulping a poisonous substance.
FROM I.F. Joe Awuah Jnr. & Ernest Kofi Adu Kumasi