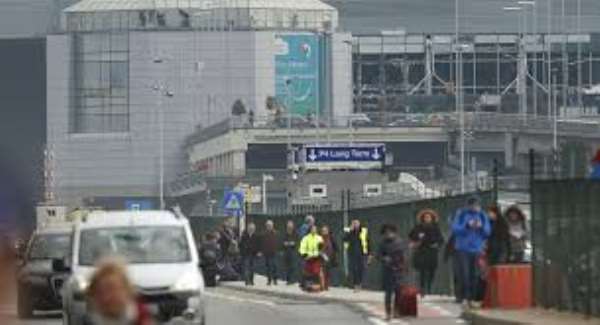 Brussels, Accra, March 22 - (dpa/GNA) - At least 13 people were killed and 35 injured Tuesday in two explosions that ripped through the departure hall of the airport in the Belgian capital Brussels, prosecutors told local media as the city went into lockdown.
The royal prosecutor called the airport blasts a suicide bombing.
The STIB public transport operator reported another explosion at the Brussels subway station Maelbeek, which is located near EU institutions, local media said. A dpa journalist saw at least one injured person being treated by emergency responders.
Belgium raised its terror alert level to 4 - indicating a "serious and imminent" threat.
Prosecutors have opened a terrorism investigation, according to the RTBF broadcaster. Belgium had already been on high alert since the arrest in Brussels last week of Salah Abdeslam, a key suspect in the Paris terrorist attacks.
In the French capital, President Francois Hollande was holding an emergency meeting with top ministers, including Prime Minister Manuel Valls and Defence Minister Jean-Yves Le Drian.
The entire public transport network in Brussels was shut down Tuesday, while the city's tunnels were being closed to car traffic.
International institutions in Brussels were sending staff home. Authorities called on people to stay where they are and not to make phone calls with the mobile network overburdened.
The airport is located about 15 kilometres from the Brussels centre.
"There have been two explosions at the airport. Building is being evacuated. Don't come to the airport area," Brussels Airport wrote on its Twitter account. "Flights have been cancelled."
Train traffic to the airport has also been halted, the SNCB rail company wrote on Twitter.
Pictures posted on social media showed a blown-out window front, debris that appeared to come from a collapsed roof and bloodied people inside and outside the airport. Smoke could also been seen rising from the building.
The explosions at the airport took place one after the other around 8 am (0700 GMT), eyewitnesses told the Belga news agency. Eyewitnesses told the news agency that they had heard shots and calls in Arabic before the explosions.
GNA