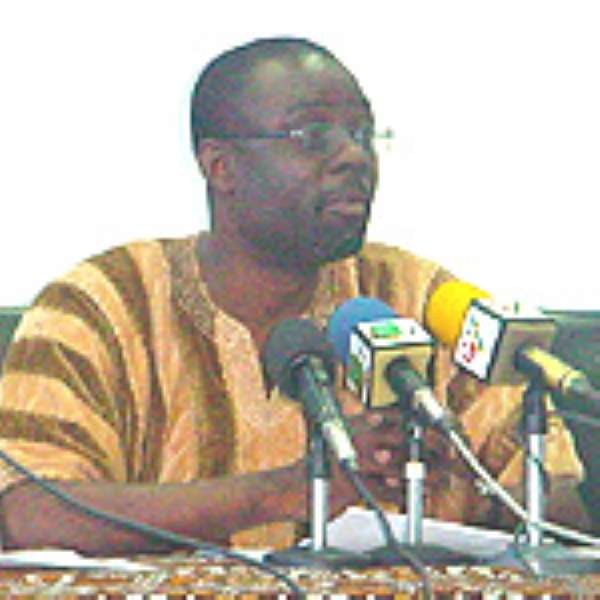 Accra, Dec. 8, GNA - The new Parliament that would be inaugurated on January 7 would welcome new faces and say goodbye to a number of seasoned lawmakers.
In the uncertainties of an election, several key personalities, who were Parliamentarians or wanted to represent their people in the august House lost out.
They included the Deputy Minister of Information, Mr Andrews Awuni Aberibire (pictured) debarred from entering the House by Mr Albert Abongo of National Democratic Congress (NDC) with 17,397 votes against his 10,311 votes.
Veteran Journalist Nii Nortey Duah who was attempting to enter Parliament for the first time, lost in the Ledzokuku Constituency in Accra.
Apart from the first timers veteran and popular Parliamentarians also suffered defeat. Those that readily come to mind are: Madam Hawa Yakubu; Mrs Ama Benyiwa Doe; Mr Cletus Avoka; Mr Mike Hammah; Mr Victor Gbeho; Reginald Nibi Ayi-Bonte, Minister of State in charge Fisheries and Mr Rashid Bawa, Minister of State at the Ministry of Education, Youth and Sports.
The winners, whom the electorate had endorsed to return to the house include Papa Owusu-Ankoma, Attorney-General and Minister of Justice; Nana Addo-Dankwa Akufo-Addo, Foreign Minister; Mr Yaw Osafo-Maafo, Finance Minister and Mr Hackman Owusu-Agyeman, Minister of the Interior.
Other are: Captain Nkranbea Effah Dartey (rtd), Deputy Minister of Local Government, Ms Christine Churcher, Minister of State in Charge Basic and Girl-Child Education; Mr Ken Dzirasah, Second Deputy Speaker; Mr John Mahama, Former Minister of Information; Mr Dan Abodakpi Former Minister of Trade and Industry and Mr Moses Asaga, Former Deputy Minister of Finance.
The first timers, who are expected to make remarkable impact on deliberations in the House, include Prof. Alhassan Wayo Seini, Paa Kwesi Ndoum, Minister of Energy and Mr Asamoah Boateng, Deputy Minister of Information.
Mr John Ndebugre, firebrand revolutionary in days gone by defeated Mr Cletus Avoka while Mr Clemence Kofi Humado beat Mr Victor Gbeho to make their way into the House.