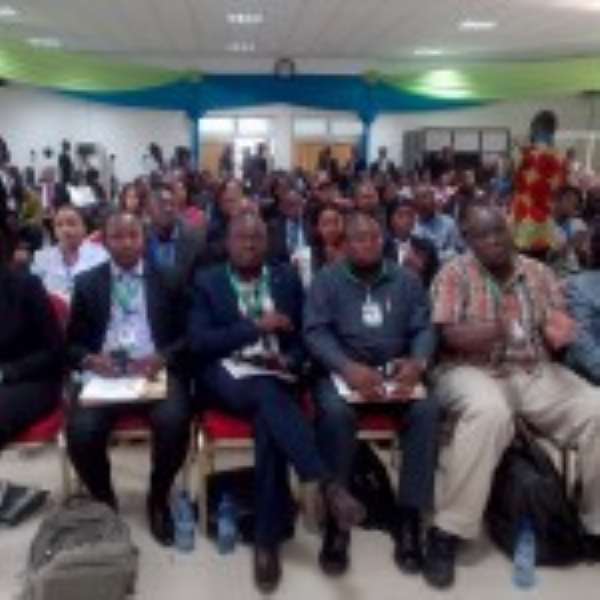 A cross section of participants at the conference


THE PROSECUTOR of the International Criminal Court (ICC), Fatou Bensouda has denied allegations that the Hague-based Court is biased towards Africans in its prosecutions.
According to her, the ICC has been operating independently and has remained impartial to any region or group in the execution of its core mandates.
She explained that the allegations being leveled against the ICC are as a result of lack of understanding about the workings of the Court.
Ms. Bensouda was responding to questions at the opening ceremony of a two-day ICC and Africa Conference on Thursday in Accra.
The conference held at the Ghana Institute of Management and Public Administration (GIMPA), sort to facilitate the establishment of a critical network of scholars and academics, legal practitioners, consultants, civil society and governments.
Some participants, mostly African scholars had raised concerns at the conference that the ICC continued to deliberately target Africans in its operations.
But Ms. Bensouda sharply denied those allegations, maintaining that the ICC has remained impartial in prosecuting perpetrators of mass atrocities and war crimes.
Collaboration
The Gambian-born Prosecutor observed the need for Africans to form a solid collaboration with the ICC in order to bring an end to impunity on the continent.
.
She stressed that Africa and indeed the world owe it to the younger generation to support the ICC to enable it carry out its functions in order to continually fight impunity from mass atrocities.
She cautioned that any attempt that seeks to subvert or weaken the rule of law in Africa must be frown upon, lamenting that Africa continues to suffer from too many wars and other crimes against humanity.
Ms. Bensouda assured that the ICC will not allow violations or violators to go unpunished.
She explained that criminal justice at the internal and international level can play an important role in the promotion of economic development, thus the need to respect international criminal jurisprudence.
'Selective Prosecution Unacceptable'
Ghana's Deputy Minister of Justice, Dominic Ahi urged that the relationship between the ICC and Africa must be mutually benefitting.
He was of the view that Africa had been targeted by the ICC over the years, warning that selective prosecution is unacceptable.
Meanwhile, the Dean, Faculty of Law at GIMPA, Kofi Abotsi appealed to Africans to rise above "the pettiness of criticisms."
BY Melvin Tarlue