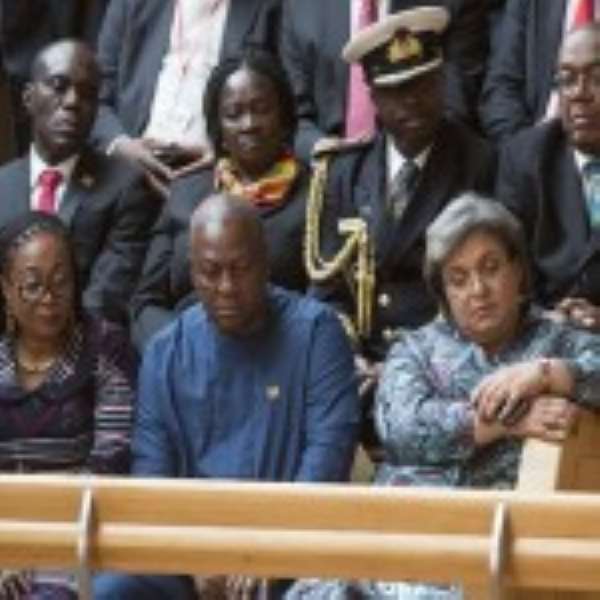 President Mahama and his team seated in the gallery of the Scottish Parliament yesterday
President John Mahama's visit to Scotland has been overshadowed by a charge from his hosts that his government operates an anti-gay policy much to the disadvantage of the Ghanaian local community of lesbians, gay, bisexual and trans-genders (LGBTs.)
The demand by his hosts to therefore give an account of his government's position on gay rights, a task which appears to have taken him off-guard, has visited a challenge on his otherwise friendly tour of the historical segment of the United Kingdom during which he is scheduled to be conferred with an honorary doctorate degree by the University of Aberdeen.
Opposition legislators have already turned their backs on him in protest against what they consider President Mahama's poor human rights records in his treatment of members of the gay community, even as he was invited to address Parliament by his guests. Opposition parties called off a meeting scheduled with the Ghanaian leader in registering their protest.
The snub left the president and his entourage wearing long faces in apparent disbelief as they sat in the gallery of the Scottish parliament.
The request comes at the heels of an impression by the Scots that Ghana's anti-gay policy has not inured to the advantage of gays and lesbians.
President Mahama was therefore torn between being forthright about the official position of government on gays in the country and treading on diplomacy.
It was a murky subject Members of the Scottish Parliament (MSP) thought undermined the safety of the homosexual community and the opposition members of the MSPs.
.
Even before he touched down on Scottish soil, President Mahama's official position on gay rights was known by his hosts who doubtlessly prepared to quiz him on the sensitive subject his compatriots at home are seeking to appreciate how he wriggles himself out of the seeming conundrum.
Joining hands with the parliamentarians were human rights campaigners who asked that their guest be quizzed over his government's maltreatment of lesbian and gay citizens.
A muted reception he received earlier from the Holyrood Chamber was steeped in this negative impression.
It all started when the Parliament's Presiding Officer, Tricia Marwick, announced a hand of friendship to the visiting president to which members of the Scottish Greens, including their known Gay co-convenor, Patrick Harvie, demanded caution in a correspondence in reaction.
They had stated, "We believe that the Scottish parliament should be a place where everyone can feel safe. Yet the invitation to President John Dramani Mahama to address MSPs can only undermine this, given his full support for the horrific discriminatory laws towards the LGBT community in his country."
The Scots are conscious of the fact that Ghana is one of 75 countries where it is illegal to be gay – a breach which carries a sentence of up to three years.
Amnesty International Programme Director in Scotland, Naomi McAuliffe, did not help the cause of President Mahama when she said that she received regular reports that LGBT people faced police harassment, while repressive attitudes towards LGBT Ghanaians meant they were vulnerable to discrimination and physical attacks. She added that such persons were subjected to torture and ill-treatment at the hands of security personnel.
While showing understanding for the opposition leaders and MSPs' decision not to meet President Mahama because of human rights failings, she added that the visit offered an opportunity to raise concerns about the ill-treatment against LGBT and the use of torture.