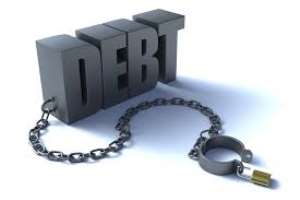 Several conferences have been organized to tell Ghanaians how incompetent the current government is; with the grade point for such conclusions being the performance of the Ghanaian economy with special attention on how much we have borrowed since NDC took over the affairs of the economy. In fact, so much is said about the debt stock of our economy that, I will not be surprised if my seven year old daughter mentions the total figure to the decimals when queried. But why do we make so much noise about Ghana's debt? Is it actually that bad to borrow? Are we doing something wrong by borrowing at all? In other words, if Ghana is borrowing so what?
I know you might deem this insane, but the truth is, if we are honest and can leave our political brains behind when doing analysis, we will celebrate Mahama rather than vilify him for taking the risk of borrowing. In the fight for Ghana's development, he is the bravest warrior we have ever had – no wonder he is the descendant of Jakpa. At Ghana's current position, borrowing is a necessary evil.
We either borrow to meet the needs of the growing population that comes with higher demands for infrastructure, or fold our arms and welcome the ugly siblings of dumsor in the not so distant future. A selfish politician would have chosen power over doing the right thing; but as someone who sees the betterment of Ghana above all, Mahama took the risk to borrow – handing over the missiles to his opponents to fire at him. To understand why Ghana needs to borrow even more, let us personalize the country's situation a bit. All apologies to the economists; permit me to use micro analysis to clarify an important macro issue.
Imagine yourself as a young entrepreneur who started selling provisions on a table in front of your house. Let us assume that "market is very good for you" and your products outgrew the little table you inherited from your father. You need to move into a store to cope with the growth. But there is a problem; you just do not have enough money to build or rent one. So you walked into the little bank behind your house for a loan and built yourself a store. Assume that the market is still good and now you even need to expand to other areas in your community and beyond. Because of your reputation in paying your debts, the bank agreed to give you more money to catch up with the demands. Tell me, with this class 1 analysis; is there anything wrong with you borrowing? There will be something wrong only and only if you are taking the loans for smartphones or tablets. The problem is not about borrowing; it is about what you are using the money for. This is exactly what Mahama is doing for Ghana. At a point in time, your store will become a supermarket; you will own franchises and will have enough free cash to add more stores without the need for loans. Indeed, you might graduate from a borrower to a lender. Just look at China.
With the bravery of the NDC government, Ghana will reach what I will call the "optimal level of infrastructural development," when we will not need huge investment in capital projects apart from maintenance, and can therefore channel revenue to other important social programs. What Mahama is doing was what previous governments failed to do and plunged the country to the ugly face of dumsor. If he listens to NPP and their debt is bad campaign, we will experience chronic shortages in educational, health and other very important facilities in the fast approaching future. Ghana's population is not static, and as it grows, we need to expand facilities to take care of the numbers that are popping up. Mahama is an exceptional president who knows exactly what he is doing; you just need to know the difference between Economics and vice presidential economics to understand him. No great nation of our time got where it is today without huge borrowing. Just so you know, the total debt of US stood at $18.152 trillion as at August 2015; only God knows the number of zeros in there.
NPP can make noise about borrowing because they executed zero projects on their own for the 8 years they were in power. The major achievement of the Kufour-led elephant pulling government was the introduction of an award scheme for the party members – perhaps for winning elections because there was no achievement to show off. Yes, I mean NPP achieved 0% of the promises in their manifesto. I know you will mention the toilets, the schools, the Kufour buses and Health Insurance Scheme – but none of them was done out of the benevolence of NPP for the people of Ghana. They executed those projects because they were all "MUST DO" projects.
The conditions for HIPC required Ghana to achieve some assigned metrics on health, education, human rights and poverty reduction before it could reach the completion point; read pages 8/-9/ of the completion point document at www.imf.org/external/pubs/ft/scr/2004/cr04209.pdf. NPP constructed schools, imported buses and built toilets among others to meet HIPC requirements but never as part of their plans for Ghana. This explains why all schools, toilets and health centers that were constructed by them had to wear the "HIPC batakare". In effect, the equation becomes "8year of NPP – HIPC projects = Zero achievement". If they were to undertake half of the infrastructural development NDC is executing now, they would have borrowed more than 3 times what they left behind; for the cost to buy chains for themselves would have been incorporated into each loan.
As a matter of fact, Ghana is facing the challenges we are facing today because of the steps NPP on their way to HIPC. IMF together with the elephant clan used unrealistic assumptions in designing the HIPC completion point for Ghana. NPP told the IMF stories without consideration for what will happen if the world economy goes into a recession like it did in 2009 through recent years. They projected exports without consideration for issues that will hinder productivity; at the end of the day, they walked away with debt relief and plunged the nation into troubles. HIPC never helped any country and it shall never help any. The truth is, NPP lied about Ghana's revenue generation ability without consideration for "threats" that are beyond the reach of the country. It is a fact that most countries that went HIPC ended up borrowing more than they were doing before HIPC.
Refer to www.imf.org/external/np/hipc/2001/gha/ghapd.pdf for further details on the assumptions NPP used to reach the HIPC completion point.
A paper published by the IMF itself agreed that the projections they used for countries that went under the knife of HIPC were unreasonable. Most of these countries received an average export growth projection of 6% per the HIPC module. If we should even hold any unforeseen global happenings constant, this growth rate is insane; factor in global economic turmoil, and it becomes impossible. Surprisingly, this was what NPP went for. Indeed the IMF admitted in the same paper that if they had used realistic numbers, HIPC beneficiaries would have borrowed more than their pre-HIPC levels. If NPP knows this, if Dr. Bawumia knows this, why is he killing us with his debt theory? You can read the paper for yourself at (https://www.imf.org/external/np/hipc/2001/lt/042001.pdf).
NPP by all standards is the most dishonest political party to ever emerge in Ghana; unfortunately my big brother is leading the dishonesty crusade. At the time of finishing up this article, I read an article about him explaining why, even though Ghana's debt stands at $24billion in the books, he still thinks it is worth $37billion. I can't really tell what he is doing; maybe he is teaching time value of money. There is no need for NDC to shy away from owning even 200% of the current debt stock; unlike NPP, there is a lot to show for such borrowings.
One area that the baby elephants might wag their hairless tales about is the construction of the stadia (Accra, Kumasi and Tamale stadiums). Unfortunately that was equally not done because NPP loves Ghana so much. It was required to meet the standards for hosting the cup of nations. But for that necessity, the big animal would have handed over without any project to boast of. It is therefore surprising that instead of them to bury their heads in shame, they are shouting for everyone to hear them out. A party that sold public properties, used diesel generators and energy saving bulbs to solve dumsor; and then spent millions buying chains to award its members is not qualified to question the competence of the one that fixed dumsor with long term projects and flooded the country with important infrastructure.
Ladies and gentlemen, we need to wake up before the big animal lead us to the thick forest again. The NDC prior to the 8 years of NPP was the best Ghana ever had- see pages 5/-13/ of the HIPC decision point document at www.imf.org/external/np/hipc/2002/gha/ghadp.pdf, just as the post NPP NDC is doing an excellent job to develop the nation- read the green book. By this, I hereby declare NPP unqualified and ill-prepared to run the affairs of Ghana.
I want to conclude this article by emphasizing that Ghana is not a leadership laboratory where new leaders are experimented. We cannot risk the peace, the gargantuan development, and the international reputation of our great nation by playing a game of trial and error. Even in their united self, they achieved nothing; we cannot therefore trust them to do much when the party is in factional warfare. God forbid that they do what they have been doing at their headquarters to the office of the president, should we mistakenly give them the chance.
Perhaps in future, there will be a unifier and serious candidate to ride the elephant in the war for Ghana's development; for now there is none. There is only a man who believes he is entitled to the position of a president and must reach it no matter the cost; and such a man is not a presidential material. May the elephant remain in the forest! God Bless our motherland Ghana.
Abubakari Sadiq Iddrisu Assurance/Audit Staff, Ernst and Young LLP, NY. Certified Public Accountant, NY, USA. Member, American Institute of Certified Public Accountants.
MBA Public Accounting, Iona College, NY. B.A Economics, Lehman College, NY.