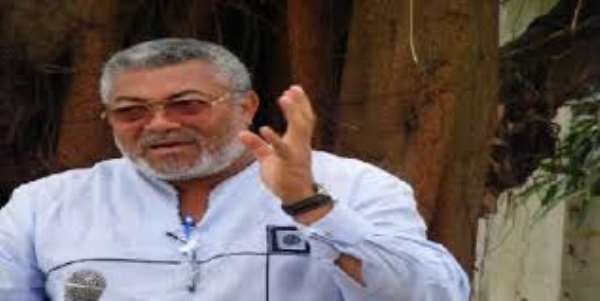 Former President Jerry John Rawlings
Amnesty International has rejected calls by former President Jerry John Rawlings who is advocating capital punishment for convicted killers in the country.
The ex-president had called for a strict adherence to the laws of the country so that persons found to have committed murder by a court of competent jurisdiction are condemned to death.
He made the call when the family of the late Member of Parliament for Abuakwa North, J.B Danquah-Adu, visited him at his residence on Wednesday 16th March, 2016.
Mr Rawlings charged parliament to enact legislation empowering regional security councils to enforce the death penalty.
"Our constitution empowers us and gives us the right to punish, to exact the same level of punishment, and if we cannot do it to serve as a lesson to those who are taking others' lives with ease, then, please, I'd like to use this occasion – I should have done this a long time ago – to invite parliament to consider the need to look into our constitution as to whether we should not now empower the regional security councils to sign or to approve the taking of a life for a life," Mr Rawlings said when the family of the late J B Danquah-Adu visited him at his residence in Accra on Wednesday March 16.
"We all believe in the New Testament, but if some people are determined to conduct their lives along the Old Testament, then please let's not give them the other cheek to slap," the former military leader added.
But human rights group Amnesty International has said the call is unfortunate and has proposed an objective discussion on the issue.
Speaking to Class News Wednesday March 16, 2016, Country Director of Amnesty International Lawrence Amesu said the death penalty does not deter crime in any society.
"Amnesty International totally opposes what His Excellency the former President Jerry Rawlings is proposing that people on death row should be executed," stated Mr Amesu.
"We think that His Excellency has taken us back to barbaric years.
"I wish that we are not discussing this issue at this time when there is so much pain on the heart of everybody, because people are now being emotional. That is why people are saying that let's execute or kill because he has also killed.
"I wish that time will pass, the wounds will heal, and then we discuss this passionately as Ghanaians. [The] death penalty does not deter crime in any society," he added.