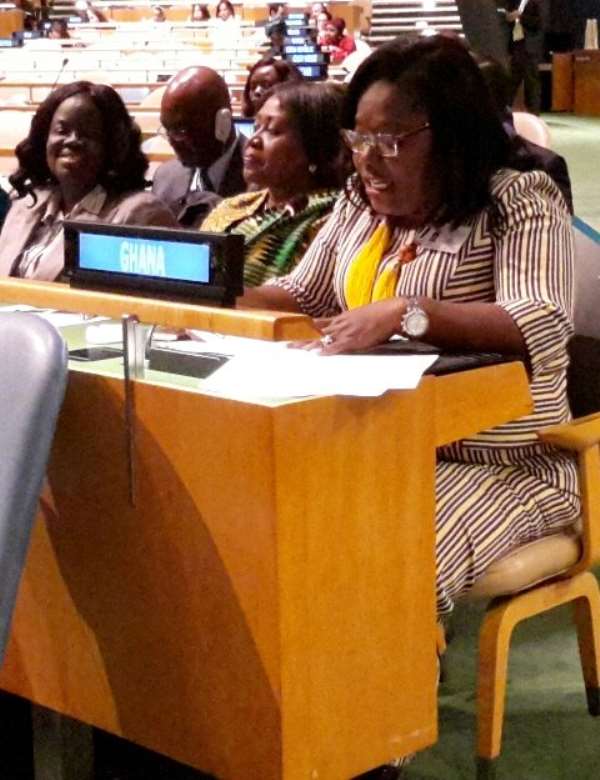 New York, March 16, GNA - Mr Ban Ki-moon, United Nations Secretary-General has called on governments, businesses and others to step up for gender equality which demands nothing less than full respect for the human rights of women and girls everywhere.
'In clinics and labs, schools and courthouses, farms and boardrooms, women leaders insist on equality and show its value. In the face of grave threats and attacks, women human rights defenders stand for freedom and women journalists speak out for the truth.
'As long as one woman's human rights are violated, our struggle is not over.
The world is full of inequalities and injustices for women and girls but after nearly ten years as Secretary-General, I know those are no match for our resolve to create a future of full equality.
'I did my best to promote women at the United Nations,' the Secretary-General stated at the on-going 60th Session of the Commission on the Status of Women (CSW60).
Mr Ban Ki-moon recounted: 'As Secretary-General, I have appointed more than 150 distinguished women as Assistant Secretary-General or Under-Secretary-General.
'When I took office, there were no women special representatives often known as SRSGs in the field. Today, nearly a quarter of UN missions are headed by women.
'That is not nearly enough but it is a major step in realizing the Security Council's historic resolution 1325 on women, peace and security.
'We are now shattering glass ceilings, and this commitment will continue. The deeply rooted prejudice that women are not capable of dealing with security matters; that is completely untrue'.
Mr Ban Ki-moon: 'Everywhere I travelled, I tried to understand women's concerns. I was angered by their political exclusion. I was dismayed by the slow progress on maternal health.
'And I knew it was long past time to end the pandemic of violence against women and girls'.
He expressed concern that violent extremists are striking at UN values waging battles on the bodies of women and girls.
He said the new UN Plan of Action to Prevent Violent Extremism sets out specific proposals to give women more influence in the global response.
The Plan calls for ensuring that efforts to counter terrorism and violent extremism never violate any human rights.
'When we stay true to our principles, we stay on the right side of history and the winning side on this issue,' he said.
Making a case for Africa, Nana Oye Lithur, Minister of Gender, Children and Social Protection; said Africa has made substantial progress towards the achievement of universal primary education, high primary enrolment rate, improved girls' enrolment and gender parity.
She said Africa is leading the world in terms of women's representation in national Parliaments.
'These successes could not have been attained without high level political commitment considering the socio-economic factors that operate against women and girls in a traditional African society.
'The success story is proof of the fact that change is possible with more commitment and sustained efforts'.
Nana Oye Lithur explained that Africa has all the resources it needed to galvanise development and African women and girls will not be left behind as 'we strive for global sustainable development'.
This calls for innovation, a more strategic use of technology and increased targeted resources that address the root causes of under development in Africa.
She however noted that Africa need to adopt a gender sensitive integrated approach towards addressing the continent's socio-economic challenges and climate change.
'Within our African socio-cultural context, let us not forget the drivers of social behaviour; our culture, traditions and beliefs. Africa will make more progressive gains if we address the socio-cultural and traditional challenges that impede the development of women.
'Our traditional, religious and community opinion leaders as well as the ordinary African man and boy on the streets of Nairobi, the Western Cape and Accra are important partners we should consciously cultivate. We must also reduce the risk of reversing gains we have made,' the Gender Minister stated.
Nana Oye Lithur, is the leader of the Ghanaian delegation made up of Members of Parliament, representatives from the Ministries, Departments and Agencies (MDAs), Civil Society Organisations (CSOs), Non-Governmental Organisations (NGOs) and Gender Technocrats.
The priority theme for CSW60: 'Women's Empowerment and Its link to Sustainable Development'.
The CSW was established in June 1946 as a mechanism to promote, report and monitor issues relating to the political, economic, civil, social and educational rights of women.
It holds annual sessions in March to evaluate progress made in protecting and enforcing the rights of women globally.
By Francis Ameyibor, GNA Special Correspondent, UN, New York