March 8, 2016
|
Diaspora Diaspora (France)
Ghana's 59th Independence Day Speech in France delivered by Sugru Manwuriba Alhassan-Ghanaian Author in France
Ghanaian Community In France (GHACIF)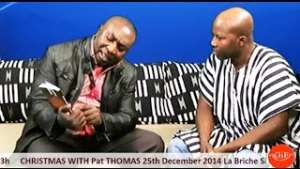 Honorable President of the Ghanaian Community in France,
Nananom, Religious Leaders, Leaders of Ghanaian Associations
Fellow Ghanaians,
Friends of Ghana,
Distinguished Ladies and Gentlemen,
Good evening and welcome to Africanology, the new cultural civilization in Africa" My name is Sugru Manwuriba Alhassan, I am the founder of Africanology. As a Ghanaian writer here in Paris, I'm very elated to be among my own people today.
Let me start by thanking the Ghacif President Honorable Michael Osei Mensah and my fellow compatriots who came together to organize this important ceremony today here in France
Mr. Chairman, distinguished audience present here to celebrate the 59th independance day ceremony, it has always been a pleasure to be with one's own people.
Ghana is now 59 years old. Ghana is all what we have as our national identity and therefore we must celebrate its independence.
Ghana, our beloved country is the most beautiful country in the world and it shall remain so forever in our minds and feelings.
We salute our First President, Osagyefo Dr. Kwame Nkrumah, Sergeant Adjetey, Corporal Attipoe, Private Odartey-Lamptey, Nii Koblah Bonne, and all the gallant men and women who fought for Ghana's image. That is what gives a meaning to our today's celebration.
Dr. Kwame Nkrumah said, the independence of Ghana is meaningless until the total liberation of Africa.
The body of Africa has been freed but the spirit of Africa is still trapped, it is now the duty of you and I to work out and untangle the spirit of Africa from the spiritual and physical world.
Fellow Ghanaians please allow me to use this platform to tell you the origin of the name Ghana.Ghana extends the life the old Ghana Empire and that was the reason why, our first President Dr. Kwame Nkrumah and his Government chose it to replace the colonial name, Gold Coast after independence.
According to the Arab historian who kept the history of Ghana empire, Ghana means greater king, this is what has been recorded when you google out the history of Ghana empire. Also according to our oracle talking drum historians "Ghana" means greater than the king.
We still have the meaning in some of our Ghanaian local languages today. They are two separate words, Gaa means greater than, Na means king. According to the linguistic oracles, the sea king family was interdicted to become the next earth king due to the wickedness of their father who was a king after his disappearance.
After several years of the family being subjects to the sun king family. They arose up to form another group and over powered the king, so the leader named himself greater than the king.
Finally, after the short history. Let me take this opportunity to seek your indulgence on my current career as a writer. I just published my first book in Ghana and I wish to create its awareness among our people here in France. It's a book written to revamp the African creativity. It is titled "African Traditional Revolution''. The ideology is simple. We must believe in ourselves as blacks and be proud of our identity, hence accepting who and what we are.
We must learn to create on our own, rather than depend so much on creativity from other people's culture and tradition.
Our resilience as Africans is very crux to our development. This generation must play an active role in Africa's renaissance by virtue of our creative abilities. If we are able to create new things in the world I believe Africa will be a better place to live.
Dr. Kwadwo Sarfo is manufacturing cars in Ghana, we must be proud and support him. Because, that's the only way the African story can be changed. I wish to end my submission here, and humbly request everyone to buy a copy of my book to read. You will see the realities of our beloved continent. It is sold for only 10euros today.
Thank you all and God bless you all.
Sugru Manwuriba Alhassan
Pioneer Africanologist