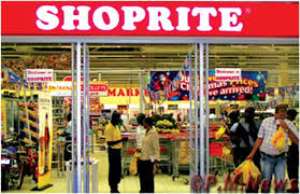 The propensity to be belligerent comes with the genetic malfunction of people who are frigid and, pompously, rigid.
Investors like Shoprite and Game must adhere strictly to laws and regulations of any country that they find themselves in. They are not exactly doing their host nations as much favour as that they are doing to themselves, especially in Ghana, where the opportunity to launder money is as obvious and unguarded, hence the widespread suspicion that they are engaged in this criminal malpractice, too.
There are also de facto regulations that are understood to be the norms of doing business, but when investors choose to overlook those procedures with an air of haughtiness, they have to be chided to bring them back on course.
Shoprite and Game seem to be two South African Companies that are recalcitrant. They simply won't be told!
A conclusive declaration by the Importers and Exporters Association of Ghana to shut down their businesses for one day in protest over CEPS pharaonic directives to be implemented at the ports, including the stamping of excisable items, was taken. All the stores and supermarkets in Accra shut down in religious adherence to this arrangement. However, Shoprite and Game stood out from the midst of their aggrieved lot as the rebels or outlaws.
Could it be that their businesses are so big that they are in some form of collusion with CEPS to give their containers priority? Are they paying CEPS officials monthly remunerations to pacify them? What is happening? Or could it be that they are much more influential than the highest authority of CEPS that they can conduct themselves intimidatingly, forcing preferential treatment?
It is obvious that by opening their stores, Shoprite and Game defied the very tenets of the association that they belong to. It is not just a simple mistake that can be brushed aside, really. It is a folly that cannot be overlooked. But then again, it seems that the association of importers and exporters is not authoritative or stern enough to be irenic under the unpatriotic circumstances of the renegade investors.
Well, it is clear that in dealing with Ghanaians, and all that our nation commits to in terms of ethics, these two business entities are applying the same mask of apartheidism, bigotry and self-centredness that all must eschew in the name of fair trade and peace. It is quite unappealing to say the least; and dirty.
Shoprite, Game and all the rebel businesses, let this serve as a wake up rebuke. Be honest and zealous in bringing sanity to investment as your many colleague companies are because as it stands, you do not show the slightest signs of honesty, and respect for Ghanaians.