BOG Is Wicked And Dishonest In The DKM Saga!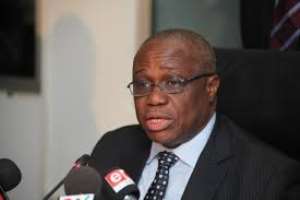 Dr. Wampah, Governor Of Bank Of Ghana
As we speak now BOG's certificates of operation are gallantly glassed and displayed in all offices of DKM. Don't tell us it's a provisional certificate because we don't know about that, and no customer would have known that. Which kind of provisional certificate would have allowed a huge company like DKM to openly run its operations in four of the ten regions of Ghana for almost four years without any restrain from the regulator who offered that provisional certificate to it?
DKM is been running radio, online and newspaper advertisements of its products since 2012. The chief executive officer of DKM Martin K. Delle has won several awards by several reputable institutions and organizations including the Catholic University College of Ghana (CUC). DKM in 2014 won an award for the best entrepreneur within Sunyani municipality and was acknowledged and congratulated for his contribution to reducing graduate unemployment by employing over a hundred and fifty graduates within 2013 and 2014 (Ghanaweb, 27th August, 2014) He has appeared on live radio and TV programs across the country preaching his entrepreneurial wisdom and no one saw anything wrong with it including the good old self -Bank of Ghana, why now?
The most hypocritical part of this whole saga is that, Bank of Ghana has regional branch in sunyani which is active and operational. DKM's head office is located in Sunyani too. How possible is it that they never had any encounter as financial institutions located within same environment? DKM undoubtedly occupies one of the most expensive edifices in the heart of sunyani. A very huge and popular edifice which obviously should not be hidden to bank of Ghana. It's therefore wicked and insincere for BOG to preside over what has been perceived audacious and remarkable entrepreneurial venture for almost four years only to turn and demonize same. These unanswered legitimate questions amplify the insincerity of BOG's position.
My personal experience with DKM. I was posted to Sunyani as a teacher after graduation from UDS in 2012. I arrived in Sunyani and heard about DKM microfinance company ltd offering their clients 85% interest on their deposits in three months. My little knowledge in economics and management principles as a young graduate obviously did not permit me to engage in such a venture. I considered it unrealistic and impossible and in fact I labeled it a "prank" at that time. I spoke like an average person out there, who would say, no reasonable person will invest in such a venture.
A casual friend of mine at that time who later became my soul mate invested just ghc80 at the time we met and had returns of ghc1, 600 in few months because interest on returns was compound on customers' principal deposits. What a bait!!
Residing in Sunyani from the latter part of 2012 till date, I met lots of my school mates from the same university and year mates of different Universities who were gainfully employed with DKM and doing very well. Most of them actually flourished economically than I did as a teacher. All these while the interest on deposits and principals ranged within 80%, 70% 65% and 55% in 2012 and 2013. I still had nothing doing with such a company because I thought it wasn't convincing for my conscience. But the reality was that, people I knew, colleagues, market women, mechanics, churches and friends far and near patronized it and it was working.
They benefited big. And as a student of UDS and a northerner myself, I had several friends and school mates all over the three northern regions who had similar experiences with DKM. Several of them after few years of investment with DKM could afford decent rides and started profound businesses in just few months and years. My biggest controversy at this stage was how to continue living in that state of denial. A denial that the business of DKM was sustainable and realistic because in reality it constantly demonstrated growth and progression.
A denial that DKM was not fake and fraudulent company because in reality they registered and operated different other sister companies such as DKM Transport Services, DKM shear Butter Company ltd, DKM Airlines etc across the country? Mind you, DKM at all these material moments run advertisements on several media networks and outcompeted the regular banking sector with customers in the full glare of all state security apparatus who are now crying foul of its illegality. How possible?
In 2014, there was a rumor that the Bank of Ghana under whose regulations DKM operated had censored it to review its interest on deposits downwards to 16% per three months which DKM did. At this point I considered it quite realistic and chose to patronize their services with an amount of ghc3000. After these three months within the same year I realize the interest was reviewed upwards again and out of fear I discontinued my investment with them and withdrew all my money. But all these while, it was business as usual and because of their history and credibility they build since 2012, they had a wide acceptance and patronage of the masses anywhere they operated. DKM proudly associated themselves with BOG and confidently flung their certificate of operations to new customers who were hesitant in doing business with them.
The tragedy however occurred in May 2015 after I invested my ghc7000 the previous month at an interest of 55%. It was shocking to hear that BOG's Financial Intelligent Committee had freeze DKM accounts and was investigating it for breaching its operational regulations. I thought it was a joke but it's been real till date.
I however must indicate that, the extortionary attitude of the regular banking sector has been part of the reasons why DKM succeeded in capturing lots of its clientele. An average Ghanaian is frustrated with the unnecessary charges and cheating that goes on within the regular banking sector. One never gets back the same amount he deposits in his accounts when withdrawing. Attempt taking a loan from the regular banking sector and the processing fee alone will consume almost one quarter of the amount you are taken as loan.
Very poor customer care, shouting on customers and making them feel as if they were second class humans in the banking hall. A single transaction can make you waste the whole day in the bank, especially in the case of ADB and GCB. They accept more customers but will never enlarge their banking halls. You enter their banking halls and customers are packed like sardine. Simply put the regular banking sector is-just-boring!
The President John Dramani Mahama says he is surprise at the caliber of clientele that have fallen victims to the DKM saga. May he be reminded that a whole University who respects credibility and integrity of companies and individuals awarded the CEO of DKM for being the best entrepreneur within Sunyani Municipality in 2014.
Lecturers, Teachers, Nurses, Police Men and women, Soldiers, pastors, Market women and Farmers are victims of this tragedy. Are we saying all of these professionals are stupid? As powerless as I am, I dare say, that the actions of BOG in this matter has been malicious, disingenuous and insensitive.
BOG seems to be an accomplice to the fraud and thievery that is being perpetrated against the unsuspecting citizens of these four regions of Ghana. I simply fail to have confidence in BOG's leadership in the management of a mess that is a product of their ineptitude. Until there is any intervention from the powers that be, the customers of DKM remain in pain!!
Comments and critiques via [email protected] , tweet, @suakapeter, Facebook: suaka peter