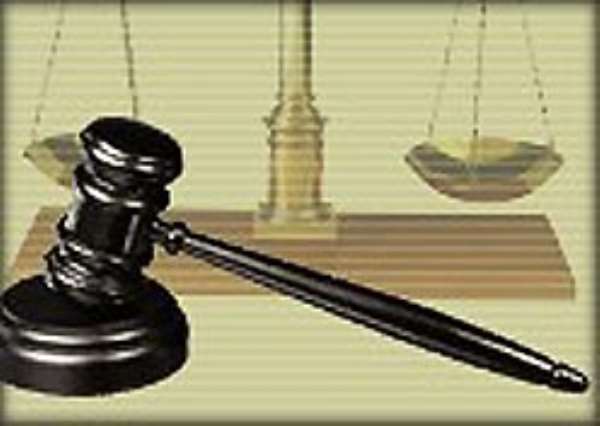 Graphic -- Hanny Sherry Ayittey, the former Managing Director of GIHOC Distilleries Company Limited, yesterday told the Fast Track High Court that the 31st December Women's Movement (DWM) received a $200, 000 donation from the Ghana Rubber Estates Company Limited (GREL) and Societe Industrielle Plantation Hevea (SIPH), the French company that bid for GREL during its divestiture.
She said the DWM received $20,000 and $180,000, but she did not state which of the two organisations donated what amount.Sherry Ayittey was continuing her evidence in-chief in the case in which she, Emmanuel Amuzu Agbodo, the former Executive Secretary of the Divestiture Implementation Committee (DIC) and Ralph Caseley-Hayford, a businessman,are being tried for playing various roles to influence the divestiture of GREL in favour of the French company.
The accused persons were alleged to have collected some monies to enable SIPH to benefit from the GREL divestiture. But all the three accused persons have denied the charges and are on self recognisance bail. Sherry Ayittey, who is also the Treasurer of the DWM, was led in evidence by Mr David Lamptey, her counsel.
She denied ever taking any ¢25 million and other monies on behalf of the DWM from Dr Owusu Barnafo, a consultant. Giving the background as to how she became associated with the case for which she was standing trial, Sherry Ayittey said on April 21, 2001, she was at home when Ms Georgina Okaiteye, a member of the DWM, came to ask her whether she (Sherry) had heard her name on Joy FM.
She said that when she replied in the negative, Ms Okaiteye brought out a copy of the Ghanaian Times newspaper to show her an announcement to the effect that she (Sherry) and three others were to report to the Police Headquarters.According to the accused,Ms Okaiteye told her that Dr Barnafo had been arrested while Mr Etienne Popeller, the Managing Director of GREL,had also been dismissed.
She said Ms Okaiteye told her that Dr Barnafo had not been allowed to receive any visitors, but through his accountant, he said she (Sherry) should try to corroborate a statement he had given to the police that she received $1 million from him.The accused said she told Ms Okaiteye that it was not true and that if she had received that money she (Okaiteye) would have known it because of her relationship with Dr Barnafo.
According to her, Ms Okaiteye said Dr Barnafo had explained that the DWM, as an NGO, could receive a donation so her corroboration would not be in doubt. Sherry Ayittey said she could not tell the police what she had been asked to say, after taking donations from GREL and SIPH, but Ms Okaiteye insisted and noted that a list which had been prepared by Dr Barnafo contained her (Sherry's) name that she had received ¢25 million from him.
"I did not receive that money but Ms Okaiteye said I should tell the police that she was, in fact, promised that money," she said, and added that she became angry. The accused said Ms Okaiteye told her to report to the Police Headquarters on Monday, April 23, 2001, with two men who would sign documents to grant her bail after the police had taken her statement.
She said when she went to the Police Headquarters, she met Dr Barnafo in the office of the CID boss and after she had confronted him over the issue, Dr Barnafo told her in Twi to lower her voice because there was a BNI official in their midst.According to Sherry Ayittey, Dr Barnafo told her that Mr Popeller had stolen $2 million and spent it on women, gambling and drugs.
She said when one of the men with whom she had gone to the place asked Dr Barnafo to tell him how much money he had given to Sherry Ayittey, he said that he had given various statements to the police in which he said the monies were paid in tranches so it would be better for her to corroborate his story.
Sherry Ayittey said when she finally met the CID boss, he told her that she had been invited because of some $2 million that had been stolen from GREL which Dr Barnafo was making efforts to get SIPH to pay.After that, she said, she was asked to meet one ASP Issah for her statement to be taken, which she did, but her statement was taken later.
One week after, she said, the policeman called her and brought out a folder containing statements of Dr Barnafo claiming that he had given her $20,000, $120, 000 and $250,000 in her office at GIHOC Pharmaceuticals but she denied that, since she had never worked at GIHOC Pharmaceuticals but rather GIHOC Distilleries.
She also denied that upon her instructions Dr Barnafo transferred 150,000 pounds sterling into the account of the DWM.Sherry Ayittey said after that, ASP Issah asked her to write her statement, after which he met her and her lawyers on a different date to visit the offices of the DWM to inspect their accounting books.
When they got there, she said, she informed the national president of DWM that the police wanted to search their ledger books and went to the accounting department to see the accountant.Sherry Ayittey said during a search in the books, the police found $180,000 and $20,000 as donations the NGO had received from GREL and SIPH.
ASP Issah, she said, then called for the bank statement to see if the amount reflected in it and it did, after which the policeman asked the accountant to prepare a short statement and make a photocopy of the pages in which the monies reflected.She said that two weeks later, she had a call from Ms Okaiteye that ASP Issah wanted to see her and the following day, which was September 3, 2001, when she went to see him, they went to see Mr Awotwe, who told her that he had received instructions to charge her for corruption.