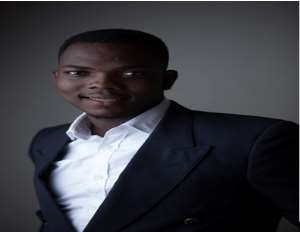 The Writer
I remember that song so well. It was played so often that I thought a TV network had been granted the clearance to change the National Anthem. I'm sure Phillip Gbeho and Michael Gbordzoe wouldn't have been exceptionally excited.
"Mentor's gonna take you higher 'rrrr'
Mentor's gonna take you ther 'rrrr'
Stick to TV3 Mentor 'rrrr'
Onanai"
Who were your favorite contestants? Mine were Prince Tuffuor and Hakeem.
It was just a popular song then but it resonates more now, especially the first two lines. According to The Etymology Dictionary 2010, the word Mentor is of Greek origin. It refers to a character in The Odyssey, a friend of Odysseus who offers counsel to his son during the father's long absence on sea. The Mentor is actually Athena in disguise, the goddess of war and wisdom who guides and sustains Odysseus through his journey. The word represents intent, purpose, spirit and passion. Both the mentor and the mentee should have intent, purpose, spirit and passion; - Obinim is my mentor.
You may dislike my mentor's doctrine and his episodes from the Discovery channel, turning into different species of dolphins, dogs, cats, lions and 'gogome'. However, you cannot deny his evident intent, purpose, spirit and passion. I am not a believer in many of his messages but I think he is a fine communicator. He understands his audience and knows how to keep them. I sometimes wonder how Obinim and President Mahama have so much in common. Maybe they were colleagues at the post graduate level. I just cannot help but admire the President during every media engagement. He has it going. He speaks so well of Ghana and he just does it with spirit and passion. I get so engrossed and excited about his speeches but right after he is done, I turn around, look around and look back at the TV and wonder which Ghana he was referring to. He understands his audience. Well, whether his audience feel same about him or not, is not for me to say but I'm sure November has a loud mouth and all the courage to talk, I don't. All the world is a brand. Communications is the blood line of every successful brand. Obinim is a successful brand.
I have observed from my mentor that in communications, it is very relevant to identify the needs of your audience. Your key messaging needs to be audience-centric. It needs to fully or attempt the least, to address the needs of your audience. You measure the audience, just like the tailor and you sew your message to fit. In order to successfully achieve this, your audience should be able to identify with your message. Your message needs intent and purpose. The communicator needs a spirit and some passion. Obinim has done a careful audience analysis. I am sure you wonder why he still has a large congregation of diverse people.
To fully understand a sermon preached at the headquarters of the International Central Gospel Church or Lighthouse chapel, you need to be educated. You need to be able to at least read and write English. Pastor Mensah Otabil understands his audience too that is why you hear his broadcasts on the station for the discerning listener.
If you are educated and you don't understand the ways of my mentor, that is your problem and not his. My mentor is focused!
My mentor is analytical. He has successfully found the common ground between himself and his audience and has built his credibility in their hearts. He recently took Shatta Wale and Ye wo krom to church. I mean be honest; these are songs you like, maybe not. You probably enjoy it in your car, at home and parties or when you wind down with your colleagues at the Republic bar after a long stressful week. My mentor is courageous! He took it to church with initial research conducted on the potential responses expected. Guess what? It worked – "Kai Kai!!! Obinim dey come like Kai Kai!!!"
My mentor is visually-sensitive. He understands the importance of visual communication. Did you see him conjure a passport from the spiritual realm on live TV? I only wonder what the Commissioners of Passports in Ghana think about who does the signing on their behalf in spirit. Also, he appreciates the need to dress to kill. His suits are so colorful that they make Joseph's biblical coat of many colors jealous. Your appearance is the first career of your message; the rest is in your wit. Light travels faster than sound so look your best.
My mentor is a unifier. How often do you hear members of his fold speak publicly against him? They believe in his leadership and are loyal to his call. I am sure the New Patriotic Party could engage his mentoring prowess. My mentor believes in pro-bono engagements.
There is so much to learn from the Bishop! Bishop Daniel Obinim, my mentor. I am not sure who regulates the use of such titles here in Ghana. Is it the Christian Council? Talk of regulation, I wonder if anyone from the Central Bank or the security agencies has a MultiTV digibox and has seen all the money that is sealed in bundles created on TV by the many 21st century ' Executive Spiritual Facilitators ' – Juju men and women is a term of old. Well, even the House of Honorables is not able to publicly regulate its dishonorable. My fridge has a regulator that works so I can console myself that there is a lot of regulation in Ghana since many people have fridges.
Lastly, My mentor is an economist. He works at the bank as a spirit and he fully understands the principle of demand and supply. He understands the general fall in disposable incomes and supplies strangers with money from the bank; how kind. Also he recognizes the growing demand for miracles, authentic or not – He can supply. He understands the principle of scale of preference – His audience first, everything else is secondary. He understands the principle of aggregation – He believes in numbers and the fact that numbers create a higher turnover. I am yet to see his official Twitter handle, yet he creates a trend for many to follow.
Yes, you may not believe in someone's call to action and his actions to the call but just read in between the lines, there is always something to learn. Your message needs intent and purpose, your personality needs a spirit and passion. I recently read a post from a musician who implied the importance of mentoring in churning out hit songs. I totally agree but there is yet another angle. I believe that beyond what the eye can see, mentoring is more spiritual than meets stardom and experience. A mentor is like a stream. A Godly mentor is as refreshing as the stream that flows from the bosom of Mount Zion.
About the Author:
Kwesi Koomson is a communications and research consultant and also the author of the book, Death Well Lived, published in January 2016.