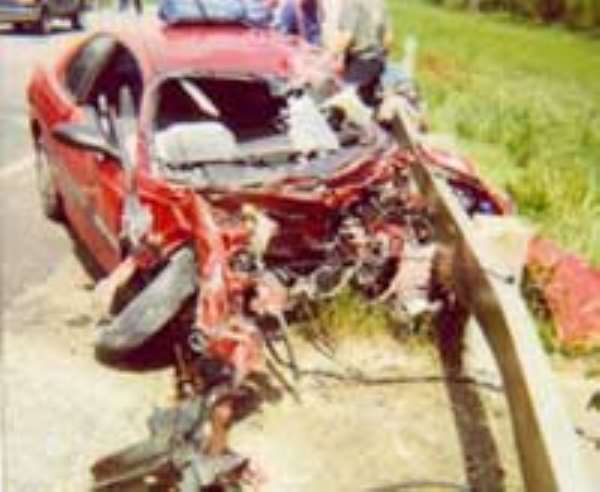 Twenty-Four people died when the two vehicles on which they were traveling collided head-on at Mfensi on the Kumasi–Sunyani road.
Twenty of the dead, including four children were said to have died on the spot, while the remaining four died on arrival at the Okomfo Anokye Teaching Hospital (KATH) where they were rushed for medical attention.
About 40 others who sustained various degrees of injuries are also receiving medical attention at the hospital.
Two of the deaths, both females were identified as Mary Agyeiwaa, 20 and Aishetu Salifu, 42. They were identified by their voter identification cards found on them.
The remaining 22 are yet to be identified.
The accident occurred around 2pm when one of the vehicles, a 308 Mercedes Benz bus, with registration number AS4479P that was said to be overtaking a taxicab went into a head-on collision with a 207 Mercedes Benz bus with registration number AS 6570T.
The 308 Benz bus was said to be heading towards Wasambre in the Ashanti Region, while the 207 Benz Benz bus was heading towards Kumasi from Mpasaso, also in the Ashanti Region.
According to some of the injured people who were in the 308 Benz bus, their driver was overtaking a taxi when he lost control and went into a head-on collision wit the other vehicle
According to some eyewitnesses, they heard a loud noise, after which they detected some smoke from the direction of the noise.
They said when they rushed to the scene; they had a hectic time removing the dead and the injured from the wreckage.
According to them, they were able to take about 46 people from the two vehicles, three of who were conscious with the remaining 43 unconscious.
They said they hurriedly mobilized more people who assisted in carrying the injured to the hospital.
Chief Superintendent Augustine Gyening, Ashanti Regional Police MTTU Commander, who was at KATH to see the injured, appealed to the general public to help in the identification of the bodies.
He expressed concern about unnecessary overspeading on the roads.
He expressed regret that despite numerous calls and education at various lorry stations for drivers to fill a driver's manifest which would assist in easy identification of victims in matters of this nature, neither of the drivers of these two vehicles did that.