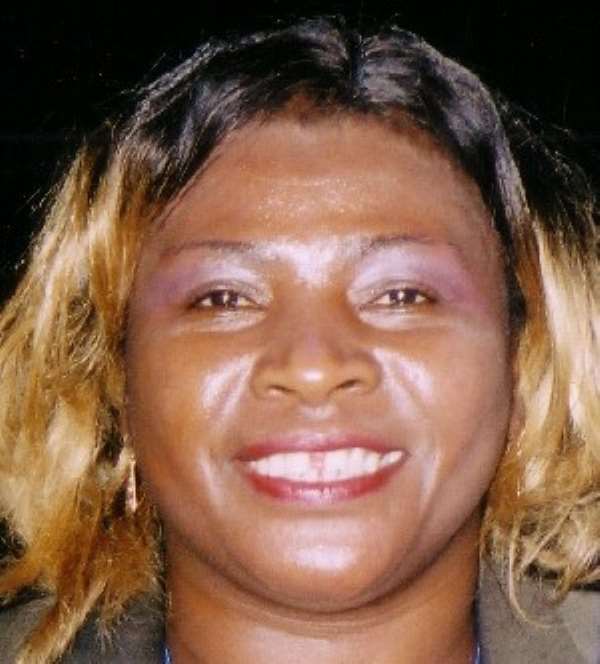 THEY ARE MAKING A DIFFERENCE IN AGAVE
Oh boy did you see that? We watched in disbelief the recent NBA game melee, (the head punching and fist throwing) involving Indiana Forward Ron Artest who charged into the stands after a fan hurled a cup at him. I thought that was an interesting scene to watch. Eventually the incident led to the NBA Commissioner, David Stern suspending Artest for the rest of the season, a whopping $5 million worth.
But the story we are about to read is not in that form or shape but very interesting to read. What makes a person decide to give back or make a difference in his/her community? There are many reasons to give. But the few that I know are; when tragedy happens in a person's life, when you see something horrible on TV and decide to make a change, or when you heard/read inspiring comments involving life's changing experiences. This particular individual lost her mother and the loss became a life changing experience and the need to make a difference.
On Friday, September 3rd, during the first day of the CEANA (Council of Ewe Associations in North America) meeting, each association was allowed to give their state of affairs. One lady by the name; Mercy Adede Bolus with the Agave Development Association from London, UK came and made a remark about her mission and willingness to make a difference in her home town in the Volta Region. After her remarks, she received a warm round of applause with some members saying "We love your accent". What she said in her remarks was an advice an old man gave her which I found very interesting and worth sharing with our worldwide audience.
On my recent trip to London last week, "Mr. CNN" visited Mercy and her compatriots at their meeting. Ghanaweb is putting a spotlight on Mercy Adede Bolus and her Association; Agave Development Association in their effort to making a difference. Read the story Mercy Adede Bolus told and hopefully learn a thing or two.
The Agave Development Association was started by accident; a speech of an old man in Dabala. She had gone home for her late mother's funeral although her mother was buried at Osu Cemetery. She knew her late mother's wish was to bury the soul of her body which is a cut of her hair and nails. Two cousins of her late mother went with Mercy. The old dilapidated home with the holes in the roof had no toilet facilities so her intensions were to finish the second burial ceremony and leave the same day.
As they were about to leave, an old man in the village with a small cloth around his waist threw a challenge at her. This old man's name is Kwasivi M Agbodovo. He asked her whether she was going to stay for the whole ceremony or half way. The proverb the old man threw at Mercy was;"if one wants to kill a snake, one should do it by knocking it on the head". This simple proverb hit her for six. After he left, she had ill thought of why such a person spoke to her the way he did. Mercy felt that perhaps there was something more to the message and she might have a car accident when she leaves without considering what the old man said. Hence she decided to stay overnight and complete the ceremony.
However, as she lies down on the bed with a chamber pot under it, the walls of the room appeared to be "talking to her" as she puts it. She felt a challenge to her profession as a Public Health Specialist. Was she running away from the village because of their poverty stricken situation? The following morning, this same old man came to the house to see whether she had left and appeared surprised to see her. She thanked him for the message but he only smiled and performed the rest of the ceremony and left for home.
Upon her return to the UK, the message became even clearer for her to use all her knowledge and skills to reach her people back home. She started attending all Ghanaian functions to find the people from Agave areas in diaspora. One attendance to the Noviha event in Tooting, London and others connected her to the right people. The Agave people she met advised her that she tried but they doubted if she will succeed because they had tried before and did not get any where. "How can I succeed" she asked herself? She did a presentation of her mission coupled with her credentials too. There was an election and members chose her as their President and she has held office for the second time in a row. The association started in April 2000. Their secretary, Julius Gamor was so enthusiastic with her idea and with the right connections he had, they secured a place for a regular monthly meeting. They then wrote a constitution and gradually numbers increased. They started with only 7 members have now reached over 30 committed members.
Their achievements so far:
Donated money to the Agave Annual Festival
Donated soccer trophy and shield for the promotion of soccer activities in the areas,
Sponsored two English students to Agave areas for 8 weeks to give them a bird's eye view of the situation and came with a detailed report as to what could be done for the youth.
Provided furniture to over 30 primary schools within the Agave areas and it is still on going.
Their next big project is to build a community centre to offer a library, career counseling office, computer centre and children's play areas for nursery.
The Ghana High Commissioner in the UK is also keen to follow up with their progress as they are only complimenting the government's efforts. All members offer their valuable time voluntarily.
Their main objectives are; to make a difference in the Agave areas and their strategy and tactics are such that they want every child to reach their potential. Some members are sponsoring children to higher education; Agave and Tongu areas starting from Sogakope right into the T junction of Lome and Keta. The areas are strategically positioned yet due to the damming of the Volta River poverty has gradually hit all the villages which depended on fishing and farming for their livelihood.
Their association is now 5 years strong, committed and forward thinking with affiliation in the U.S, Portsmouth, UK and Canada. The secret of their success is strong leadership by all committee leads. They have social outings and unite them as an association to work effectively.
Places that they have been for social outings included; Barbecues held at members' homes, Picnics at Devil's Punch Bowl in Surrey, UK and at Kew Gardens in London. They have also attended several fundraising activities of other associations and collaborate with them, the Ghana High commission, Ghana union London which they share their Charitable status and Portsmouth multicultural group. This year they were also represented at the CEANA convention in Chicago, USA. Mercy says she finds it amazing that Mr Agbodovo's message has led into such a complex integration of associations to offer the future children of Agave an excellent start to life. They owe a gratitude to her late mother for her love for the people of Agave. Her mother introduced her to the areas in 1970 and her memories of the areas still encourages her to do more and offer tireless help to her own people with a smile.
Visits from some of the members from Britain observed that some primary school children had no slates to write on. Also their classrooms were not cemented and so the sandy floors of the classrooms were used as slates. This is why their association focused on those areas for development. There is no library in the whole area let alone computer facilities. If the whole world is catching up with computer technology what chance do children of Agave currently have in the world, a question she asks herself being a mother of two children in the UK. No play ground, in fact the future is too bleak in that village but they enjoy peace and survive with the bare necessities in life.
It seems she is advocating for people in the diaspora to help their poor village mostly where their parents started life and help to transform their corner of Ghana by emulating the western society good bits so that when they go back on holidays they and their families would be proud of where they started life. No one will help us Ghanaians with any transformation unless we row our sleeves. Mercy pleads; "Please brothers and sisters in diaspora make that difference with the knowledge and skill you have got by sharing and getting involved. Never be shy of your poor village. Anyone keen to help with teaching or community development and health improvement , agriculture and designing our community centre for us will be most welcomed. We need every help we can get from people all over the globe".
Her late mother's family stopped visiting years back; however her mother was not ashamed of where she came from and loved it till the end. Though from a wealthy family and her late father was; the first Ghanaian manager of U.T.C and owner of the Victory Cottage now called John Teye Memorial School, her mother was very humble and never boosted of their wealth. These qualities has inspired her to put something back into the community which she claims she belongs and gives thanks to Mr Agbodovo for pointing her in right way in life. She expresses her thanks to Reginald Appeti for being supportive with the idea to help the Agave areas. "Reg " is also a member now. And all the members of the Agave Development Association, Julius Gamor, Anthony Azanu, Mr Charles Kagatse, Treasurer, Jacob Amusu ,Millie Addo, John Olympio, Frank Agbloe, Mr Sam Banini, Gershon Awadzi, and Mrs Vicky Kusitor and Mr and Mrs Charway and all members for their continued support in helping make a difference at Agave and Tongu areas.
Mercy and the Agave Development Association would hold their annual Fundraising event in February 19th and the special guest of honour is; His Excellency; Isaac Osei, Ghana's Ambassador to the UK and other dignitaries. Award-winning Voice of Africa Radio is also sponsoring the event and more sponsors at on the way.
Ghana's Homepage, Ghanaweb would surely be there and represented by Mr. CNN to feature the event for the viewing pleasure of Ghanaians worldwide. A small association in the UK is very committed and on a mission to completely change their hometown. "That's what's up".
Acknowledgement: Mercy Adede Bolus and Agave Development Association, UK.