Live From The Woods: Democracy In Tatters, Presidency In Chaos, And The Snake Man In The Chapel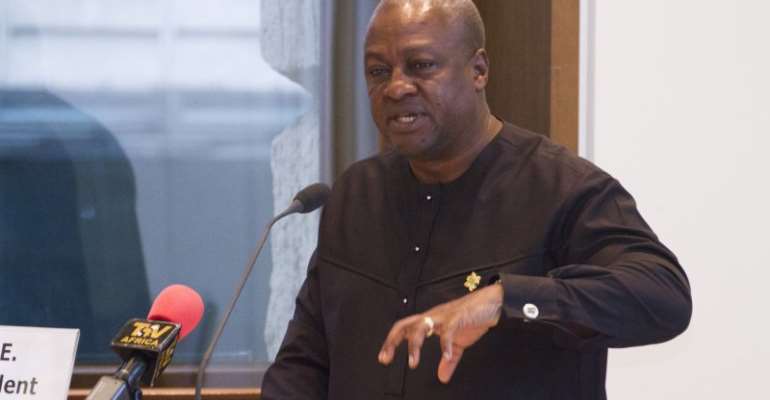 I sunk into my chair on Thursday night after work, gulping for air in my room – which has shown signs of weary due to Dumsor, half-fanning myself while reflecting on the recent issues in the country. The little flashlight attached to my Nokia phone was not sufficient to light the room.
I could not do my routine reading before sleep. The issues got to me. Kennedy Agyapong's unguarded verbal battle with Afia Shwazneggar, Bishop Obinim who claimed he could turn into a white man, a black man, and/or a snake; the death of the Member of Parliament, J.B. Danquah Adu – whose death has stirred up the seriousness of his colleagues in the house; the National Communication Authority's (NCA) shady, and unpardonable, deal with Afriwave; the clash in Tafo, and the arrest of the alleged killer of J.B Danquah Adu by the police, got me thinking. I believed all of these issues could have been avoided if the perpetrators had been responsible in their actions.
Did we, as a nation, negotiate for all these or perhaps, our carefree lives got us here?
I was, frequently, interrupted in the thinking process – a buzz loud enough that it stung my ear drum. The only sound in the room was not generated by my stereo, which has for the past week suffered some damages leaving it half-sound that only comes on when I repeatedly slap it with my right hand, but the mosquitoes – who have grown bolder by the day. I saw one mosquito charged towards my direction. I reached my two hands, and clapped it. Its buzz was seized.
I took my phone to look it in my palm. It was dead. Later, another followed with intense passion. Not even the mosquito spray proved potent enough for these beasts. While I tried to drive them away with the help of my yellow and blue stripe towel, a thought rushed into my consciousness. Just when I ignored it, it came back, this time, with the force of a tornado.
"Osofo wo krom, Osofo wo krom…mi wo krom".
Obinim is in town changing into all shades of things.
I began to laugh loud – so loud to attract attention from my neighbor, Nana Adwoa - a young lady who last night was on a phone quarreling with her boyfriend for not honoring a promise made to her. I thrust my left ear to the wall to listen. It was hopeless that I had to abandon the whole venture. That was the last time I came close at knowing the kind of promise he made to her. Nana Adwoa is mid-chocolate, very short in physique to be ignored once she's sighted by anyone, with manicured walls of white teeth and a dwarf feet that sweep the floor when she walks. You could almost make her up if you were miles away.
I thought to myself. What could motivate Obinim to turn into the creatures he alluded to in his speech to his church members?
Ghana's democracy has been put up for sale. The fate of the nation belongs to the highest bidder – in this case persons who're perverse in their thoughts and actions, and are motivated by one insoluble reason - to enrich themselves. Today, the Electoral Commissioner, Ms. Charlotte Osei is busily fending off attack on her reputation with theories that could only tickle babies into half-sleep; Ministers, who were yesterday begging for an opportunity to serve the country, are today bleeding the nation's coffers through their careless spending; a sitting President who is busily preparing for the future of his next election, instead of the future of the nation amidst corrupt practices; Members of Parliament who are gradually losing their role as the conscience of the state; and a Christian Council - a body that's supposed to set the moral tone in the country, has turned into a social club with nothing serious to do.
One thing I have noticed is that some members of government, including the president, have grown thick skin that nothing gets to them – they're not moved by what Ghanaians say. They are telling us, by their actions, that what we say doesn't matter as much as what they tell us.
I am convinced Obinim has worked his magic on President Mahama making him deaf to the voice of truth around him, and outside him. Nothing makes sense so long as it's from Ghanaians and persons who disagree with many of his faulty decisions. The voices he responds to are those of Dr. Omane Boamah - a man who once stood for his conscience when the love of the country was his burning desire; Elvis Afriyie Ankrah – the man behind our all-time disgraceful debacle at the 2014 World Cup in Brazil who rather than being prosecuted, has been saved by President Mahama; Samuel Okudzeto Ablakwa – a mentee of Comrade Kwesi Pratt; and Ms. Hannah Tetteh, the apology of a Foreign Minister who feels it's her birthright to be a Minister in Ghana. These persons are, perhaps, accomplices of Bishop Obinim. They have succeeded in weaning the president from genuine concerns of the citizens.
If we're losing our political correctness, must we lose our moral compass too? I doubt it.
The Christian Council has, for some time now, assumed the role of an appendage – either confirming or denouncing one government policy after the other. The least said about the National Peace Council, the better. Nothing serious. Everything is done in an uninspiring manner. What happened to regulating discussions on the religious platforms in the country?
What stops our religious leaders from holding up to the truth they mount podiums to preach to us? The deafening silence of Christian Council on most sensitive issues in the country is a cause for concern – perhaps we should brace up for the worst.
I know this: that Bishop Obinim, like President Mahama, has thrown all caution to the wind, and has assumed the role of the Ostrich: he hears no evil, he sees no evil, but he delights in uttering evil. When President Mahama criticized his opponents, it was seen as legendary for a president to descend that low into the gallows for political expediency, but when he's criticized, the critics are seen as bad losers.
I am not moved by the babies with sharp teeth in government – whose main task it is to discredit the truth, cloud the real voice, and bad-mouth it in the media. The light of truth would still smile on the nation. However hard some people try to bury the truth, Ghanaians will still stand up to be counted. Ghana can do better if we are responsive and responsible in how we spend its resources – freely given to us by our creator.
I am sure the mosquitoes I smashed was Bishop Obinim and his church members. Or it could be Bishop Obinim and the wife? Or perhaps Mahama, and his cohorts? I could take count of the mosquitoes I slaughtered that night. They could be enough to fill Obinim's church. Or perhaps, enough to give President Mahama a one touch victory – an unlikely fantasy in the coming election.
By Kwabena Brako-Powers (Author, Blogger, Thinker, Life-Enthusiast, Traveler)