Krobo Youth Hail The Establishment Of The New Dangme Newspaper
..... Says It Will Serve As A Tool To Unite And Bring Development To The Entire Dangme

The youth of Krobo have hailed the establishment of the new Community based newspaper known as ''The Dangme Newspaper'' which has its headquaters at Dodowa.
The youth see the establishment of the paper as a beacon of hope that will drive the development agenda of the entire Dangme tribes, and also foster unity among them.
The paper will be a 'Watch Dog' and a 'mouth piece' that will highlight the developmental deficits and challenges that are hindering the progress of the entire Dangme communities. It will also project and promote the Traditional Heritage of the Dangme people.
The newspaper, which has been registered at the National Media Commission will be launched this Friday (February 12, 2016 at 11 am) at the Dodowa Presby park in grandeur.
The newspaper which has majority of seasoned Dangme journalists as its editors and writers will also have a page for sports, foreign news, Health, entertainment and lifestyle, and columnists page.
The Founder and Director of the Newspaper, Dr. Raphael Nyakotey Obu, said "After my extensive research on the challenges and problems that confront the Dangme people and the need to find solutions to them, I realized the Dangmeland itself needs its own Newspaper to serve as its mouth piece. This motivated me to join hands with others to establish this Newspaper to serve as a voice that will champion the development of the entire Dangme. I hope this paper will assist to bring a new era of change in the Dangme communities''.
Mr Isaac Tamatey Otu, the Chairman of Kloma Hengme, a Krobo/Dangme advocacy and Heritage association, believes the time for the establishment of the paper is timely and will play a greater role in bringing development to the entire Dangmeland. He also urged the Management of the paper not to concentrate their reportage on only some of the Dangme tribes, but must cover all the 7 Dangme communities.
"This paper is being established at a time when the entire Dangme communities are wallowing in extreme poverty, hunger, disease and lagging begind in terms of quantitative and qualitative development. The setting up of this paper is timely and we must all support it so that it will be able to effectively champion the course of our development. I will however advise the Editors of the paper to be 'all-inclusive' in their reportage and cover stories in all the 7 Dangme tribes, and not just a selected few. They must also be apolitical in their reportage by being neutral on both partisan politics and in chieftaincy issues so they can withstand the test of time. A beacon of hope is dawning on Dangmeland and the days ahead of us promises to be brighter''.

FB IMG 1454937601737 RESIZED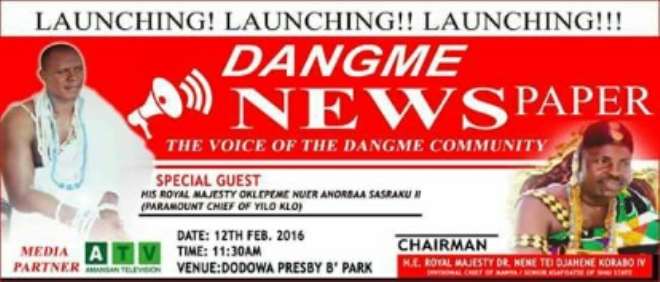 FB IMG 1454949538000 RESIZED