Alliance for Green Revolution holds workshop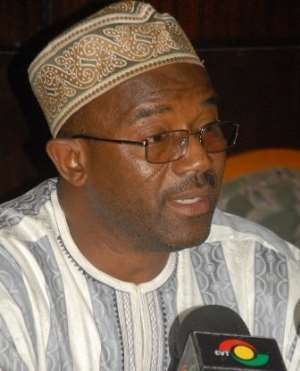 Accra, Feb. 8, GNA - Dr Alhassan Ahmed, Deputy Minister of Agriculture in charge of Crops, says Ghana's agriculture still faces many constraints including demographic, climatic, soil-related and technology.
He said the situation exists though it has been acknowledged that it is only through the transformation and modernisation of the sector that the country can achieve viable and sustainable economic development.
Dr Ahmed said this at a stakeholders' workshop of the Alliance for Green Revolution in Africa (AGRA) Policy Nodes and Hubs in Accra.
The Ghana Policy programme was financed by the AGRA with support from various institutions which focused on agricultural development in Ghana.
The programme aimed at spurring a green revolution in Ghana through the development and implementation of progressive agricultural policies targeting smallholder farmers.
Dr Ahmed said from the 1990s, a number of policies and programmes have been formulated to guide interventions in the growth and development of the agricultural sector including the Food and Agriculture Sector Development Policy II (FASDEP II) currently being implemented.
FASDEP II is to ensure the vision to modernise agriculture and structurally transform the economy, improve food security, increase employment opportunities and reduce poverty.
It is based on six objectives which are food security and emergency preparedness, income growth, access to markets, sustainable management of land and environment, application of science and technology and enhanced institutional coordination.
It adopts the commodity value chain approach to enhance productivity of all operators to enhance the participation of key stakeholders in the growth and development of the sector.
Dr Ahmed said specific objectives of the Ghana Policy nodes and country hub include: improving seed policies in order to increase adoption of crop varieties; improving policies for adoption of soil health technologies; expanding national and regional markets and trade for staple food crops; securing land and property rights to accelerate investment in sustainable soil, land and water management technologies; and enhancing environmental sustainability of technological interventions.
The elements have been applied in developing the Medium Term Agriculture Sector Investment Plan (METASIP) to provide the framework for investments under the FASDEP II over the period 2011 to 2015.
In support of government's effort to achieve the goals of FASDEP II, various development partners including AGRA have supported the implementation of various activities.
AGRA has currently invested in the programme areas of seeds and soil health, improved market access for farmers and strengthened land and property rights while focusing on the development and implementation of climate adaptation policies in Ghana at the same time.
Dr Nelson Obiri Opareh, Project Cordinator, said the overall goal of the project is to improve food security and reduce income volatility for smallholder farmers by enhancing their adaptation to climate change and variability in the breadbasket regions of Ghana.
He said the Environment and Climate Change Policy Action Node is one of the five main Policy Action Nodes in Ghana and in other parts of Africa to help AGRA achieve its vision and mission of food security and prosperity among smallholder farmers.
GNA