Clean cookstoves to be introduced into educational curricula - GACC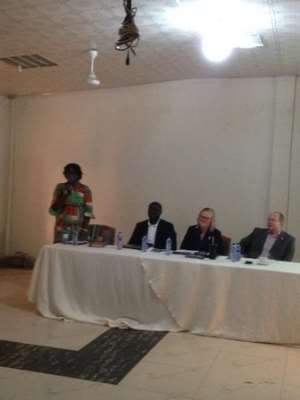 Accra, Feb. 8, GNA - The Global Alliance for Clean Cookstoves (GACC) in collaboration with the Ghana Education Service has initiated measures to introduce the improved and clean cookstoves as a subject matter in the basic educational syllabus.
The step which is being undertaken with the help of World Education, a non-governmental organisation, will introduce the focus into courses like integrated science, social studies, vocational and technical skills.
Mr Christian Osafo, Marketing and Communications Manager of GACC- Ghana, said the Global Alliance is helping the Ghana Alliance for Clean Cookstoves (GHACCO) to create awareness for clean and efficient cookstoves and fuels in the country.
He said this during the third annual general assembly of GHACCO held in Accra to reflect on the progress and activities of the Alliance as well their laid down initiatives for the year 2016.
'We are trying to alert our stakeholders including the GES on the need to understand the basics for the clean cookstoves and include it in the school curricula. Fortunately, the curriculum is going to be changed soon, and we hope that this subject matter (would be) greatly considered', he said.
Mr Osafo said a training session dubbed Inspocee has been organized for educators and teachers from Amasaman and Sapeiman areas.
He said the educators were cautioned on the health implications of using the commonly known traditional methods of cooking and the benefits (health, socio-economic and environment) associated with using improved or clean cookstoves.
He advised users of coal pots, three stone fires/stove and firewood to adopt the usage of clean and improved cookstoves and fuels for cooking to ensure their safety.
Madam Adwoa Sey, Programme Coordinator of World Education Ghana, said the Inspocee training programme, was meant to increase awareness and the knowledge level of 500 students in two schools at Amasaman and its environs.
She said among the projects being conducted are the creation of after school learning activities as well as the establishment of clean energy clubs in schools.
Mr Kwesi B. Sarpong, Regional Marketing Manager of GACC, said the Alliance is working to facilitate a thriving market for clean cookstoves and fuels.
He said it will ensure that about 100 million households adopt clean and efficient cookstoves and fuels by 2020 across the globe.
Mr Sarpong disclosed that the Alliance would embark on awareness campaigns; gender mainstreaming via the Ministry of Education; develop enterprises and work on merging STOVEPLUS Academy and BOOST; and also try to work hard on how to get more investors to support their initiatives.
GNA