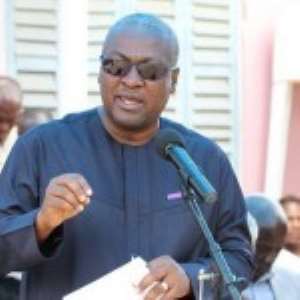 It is not surprising that President John Mahama's 'cash in pockets next year if…' promise crashed on the public domain.
It has remained unsurpassed in terms of the speed with which it trended on social media and on the lips of Ghanaians for close to three days as an opprobrious stuff: it provided an appropriate subject for beer bar political discussions. For low income earners who are overwhelmed by the unusual utility bills slapped on them by the man who claims things would ease when they give him the nod another term, they can only puff with a dose of incredibility.
Those who discussed the subject – and they continue to do so – analytically of course, wonder why the Number One Gentleman continues to underrate the intelligence of his compatriots the way he does.
Be it as it may, it was a piece of political rhetoric common to him: as his trademark he applies it each time he addresses a crowd during the campaign season project commissioning, erroneously thinking that he is being believed by his audience and that it would shore up his drowning image.
Headline writers now get excited when he is making a public appearance as he sure would make those illogical remarks or even statements, regardless of how these would not be acceptable by existing premises.
.
Just how he can put money in the pockets of his compatriots is puzzling, even if he is a political genius. It is something beyond the ken of most Ghanaians and the best we can do under the circumstances is just regard it as political talk or  campaign trail talk and leave it there for want of a better description.
For a government saddled with money constraint empirically unprecedented and therefore goes            a-borrowing monthly to meet the mountain-size public salary bill in the face of an overwhelming debt servicing demand, the president cannot be serious with such a political prank. The irony is that he has been so carried away that he does not know that only a few believe him.
What would the president do differently from what he has done in the past eight years or so that would facilitate his putting adequate money into the pockets of Ghanaians? That is the one million dollar question that is being posed by financially distressed Ghanaians.
For the opposition elements, this is a political manna from heaven: the president has tacitly admitted failing to live up to the expectation of his compatriots.
It is this admission and the queerness of the promise – an addition to many unfulfilled ones – which informed many headline composers to consider it as a front page screamer. It paid, prompting discussions all over the place.
The "money in pockets" prank has been shot down in the court of public opinion for want of integrity never to rise again.