Fear Grips NDC Over Defeat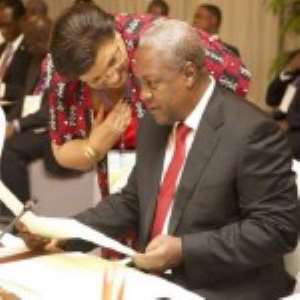 President John Mahama
It appears putative claims of unprecedented infrastructure development by the National Democratic Congress (NDC) government have not taken away apprehension of imminent defeat among members of the governing party.
Anxiety about the chances of the NDC's retention of power continues to deepen with a call on President John Mahama to save the party's ship from sinking on November 7.
Former NDC student leader for the Akrokerri College of Education, Linus Njonolah, said the only way out is for the President to quickly dismiss government appointees whose display of vulgar opulence and ostentatious lifestyle was ruining the party's fortunes.
In an interaction with the media, Mr Njonolah said some Chief Executive Officers at the various Metropolitan, Municipal and District Assemblies were the worst culprits.
"They keep on sabotaging the government with their lukewarm attitude and ostentatious lifestyles that tend to court a bad name for the NDC," he stated, describing them as evil appointees.
He continued that the President was working hard to fulfil the government's promise to the people, but noted that his efforts might yield negative returns because the actions of some of the MMDCEs were not in sync with that of the leader.
Linus indicated that NDC had become unattractive to people in some districts as a result of bad behaviour on the part of the respective DCEs.
"Their lifestyles portray the government as insensitive and smack of arrogance on their part. They must be sacked now',' Mr Njonolah stated.
From Ernest Kofi Adu, Kumasi