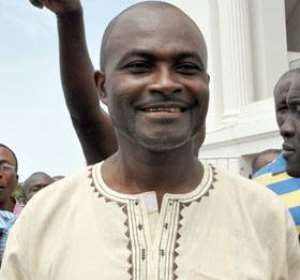 The people of Mother Ghana have been shamed once again by people whom we think should know better. A Member of Parliament and a radio presenter.
We say our country has been shamed because a whole MP could engage in hot, vile exchange of insults with a common radio presenter who hitherto has neither self respect nor respect for human beings.
We, CYK are finding it very difficult to fathom why and how the MP would attack the President, his brother Ibrahim Mahama and their family. Does just the fact that you suspect that someone is behind the rampant insults by some radio presenters on Nana Addo give you the right to also go attacking them?
Even if that is the case, does the MP not have media outlets and presenters to also condemn these people on their respective shows than he himself descending that low?
We have heard many people defending, and infact hailing the shameful acts of a supposed Honourable MP, Kennedy Ohene Agyekum but we CYK are not happy with his attitude. It is becoming too much of someone whom we pay to think about this nation.
To think of the words he used on Afia Schwar, and threatening to upload her naked pictures on social media, we have realised that this man who has many wives has no respect for women. We are therefore looking forward to all well meaning Women groups in Ghana and outside Ghana and other civil organisations to rise and condemn the actions of the MP on his radio station (Oman fm) in Accra.
For all those in the NPP who are happy with the attitude of Mr. Kennedy Agyapong, we say that 'this same dog you have released to chase and bite people around will turn around and do same to you or your children'. We are therefore not surprised that he called all NPP's including Nana Addo and former Prez Kuffuor as 'stupid idiots' on live television.
We expected that he as a Member of Parliament would be informing and educating Ghanaian youth about decency and decorum but unfortunately he is rather doing the exact opposite- and we are appalled by that behaviour.
We therefore call on the Parliament of Ghana to call this man to order now before he further drags the name of Parliament in the drains soon.
And to Afia Schwar, we want to bring to her attention that it is not a good acollade to be described as the most disrespecful person radio and Television. Such characters reduce the level of the Ghanaian broadcast journalist into this repute and the sooner the NMC and GIBA move on this the better it will be for the nation.
If it is true that Okay fm management has sacked her for insulting the legislature, we say it serves her right, if not what are they waiting for?
Such untrained persons are not needed on the Ghanaian media now or ever. It is also high time some media practioners who insult and attack people on their network for no reason are whipped in line with the ethics of our profession. We need one Ghana to be able to enjoy our Kumasi better.
Thank You. Nana Kwame Appiakorang Secretary 0242551652 Hon Krobea Asante Convener 0243057744