Live From The Woods: How To Lose One's Conscience In Ghana: The Kwesi Pratt's Way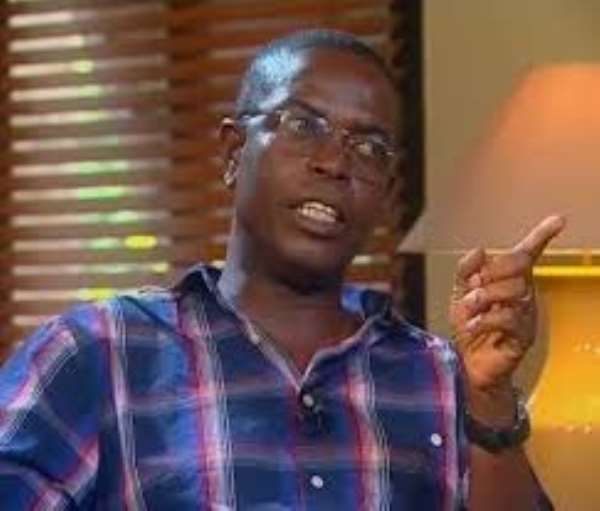 Kwesi Pratt
He's easily able to arouse your interest when you hear him speak anywhere. His analyses on major national and international issues are pure like a virgin, and poignant. He's a master dramatist who's able to weave a story-like argument to arrest your interest.
His sets of words are apprehensive and comprehensive. Everybody liked him. I do. He's touched me in many ways, and I reckoned you too. However, could these attributes of him be able to stand the test of time?
Comrade Kwesi Pratt, as he's called within the circles of the Socialist Forum of Ghana (SFG), is a solid commentator in the fashion of Malik Kwaku Baako. For some years, Ghana's political landscape has been inundated with incisive, and instructive debates by these two persons that they have been tagged to the two dominating political parties.
Comrade Kwesi Pratt is alleged to be in bed with the ruling National Democratic Congress (NDC) and Kwaku Baako is said to be an ally of the erstwhile New Patriotic Party (NPP). Beyond this coloration, these two are phenomenal in their arguments and information peddling in the country. They have this kind of personality cult attached to their names. You would almost always want to hear from them.
I remember the excitement of students on the Legon campus when news of Comrade Kwesi Pratt or Kwaku Baako coming to address a gathering gets to them. Everyone wants to hear them talk, however, that keen interest hear their voice is completely lost forever. The myth around them is broken, especially, that of Comrade Kwesi Pratt who's come under some attack in his own group – Socialist Forum of Ghana (SFG), and Convention People's Party (CCP) for his unbalanced discussions these days. I joined him when he started the Committee for Joint Action (CJA) while on campus. I saw this as an opportunity to help my country wean itself from selfish leaders. I attended meetings at the Freedom Center to discuss both national and international issues speaking in defense of the poor.
CJA, later, out-doored personalities such as Samuel Okudzeto Ablakwa, and Dr. Omane Boamah who were unwavering in their support for the vulnerable in Ghana. Their time spent with the group was inspiring. These were former student leaders still resolute in what they stood for. However, this was soon to change when the then opposition party – National Democratic Congress (NDC) won the mandate of Ghanaians and Professor John Atta-Mills won the nod to form the government of the day.
The Committee for Joint Action (CJA), a giant then known for its outspoken voice in support of the weak in Ghana, went to sleep when some of its leading personalities were drafted into the Professor Mills' government. So was its leading convener, Comrade Kwesi Pratt. He slept as deep as though there was nothing at stake. And yes there is nothing at stake since the whole CJA hullabaloo was to market the qualities of some of its hungry members.
What sets my mind thinking, was when after joining the Committee for Joint Action (CJA) to picket parliament to reject the sale of Ghana Telecom to Vodafone Plc, information got to us that now President John Dramani Mahama, who was a member of Parliament then, played a key role in the sale. My jaw dropped in shock. I wondered if anything could be done for free here in Ghana. The search for an answer led me to another discovery that the chief convener Comrade Kwesi Pratt receives pecks from President John Dramani Mahama and his cohorts.
On the Peace FM Kokrokoo morning show of Friday 5 February, 2016 hosted by Kwame Sefa Kayi, Comrade Kwesi Pratt came under yet another attack for a good reason – he denied ever attacking the Livelihood Empowerment Against Poverty (LEAP) – a social policy intervention –introduced by the erstwhile President Kufuor's government for the poor and needy in Ghana. I saw the last feather of his integrity shred into pieces when John Boadu – National Organizer and now Acting General Secretary of NPP – read some of Kwesi Pratt's publications expressing opposition to the program after having vehemently deny ever opposing it.
Though I couldn't see his face in the studio, I felt the shame poured down on me as though an iced water. It was shameful. Today, Comrade Kwesi Pratt has been nominated by President John Dramani Mahama to be on the board of the National Media Commission (NMC) to streamline activities of the media. Could he have the temerity to chide his own colleagues who behave like he does?
It's easy to lose one's conscience and integrity in Ghana, more especially, when your motivation is nothing but to get your share of the nation's booty. Or to use neutral platforms to market your personality to some political parties for a token. Or when you try to influence others to behave in a way you don't believe in yet preach. Ghana is full of this type of people. They preach peace, and practice violence; they preach us to control our expenses while they blow the money in our coffers to secure luxuries for their girlfriends, and family members; they preach poverty should be eliminated, but push the citizens deeper into abject poverty through decisions meant to enrich themselves and their cohorts.
We all have the right to guard our minds against influences from such personalities. Nobody can make you in this life than yourself. President Mahama can only make himself rich, and give opportunities to his cohorts to enrich themselves in the same fashion. Let us watch these people, and do our best to wean Ghana off them. The country will be better without them.
For more on Kwabena Brako-Powers please visit his blog on: www.brakopowers.blogspot.com or www.brakopowers.com. Please do share your comments with me. I am interested in learning from you as you learn from.