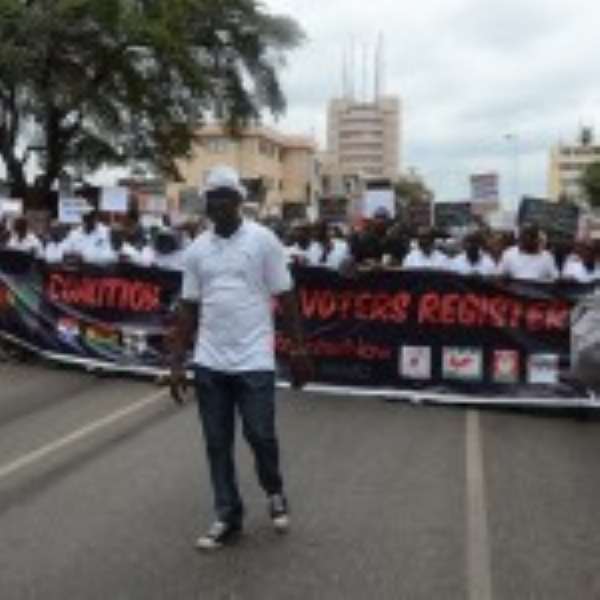 Pressure group Let My Vote Count Alliance (LMVCA) – one of the groups leading the campaign for a new voter register – has questioned the credibility of an audit report presented by a commission instituted by the Electoral Commission (EC) to probe the country's Biometric Voter Register (BVR).
The EC rejected proposals from LMVCA, the opposition New Patriotic Party (NPP), other political parties and stakeholders for a new electoral roll ahead of the 2016 general election. The groups and the stakeholders   claimed that the current register has been bloated with not only ghost names, but also those of foreign nationals.
However, the new EC boss, Charlotte Osei, recently announced that the Commission had contracted an independent expert to audit the BVR without recourse to the various political parties and stakeholders, thereby raising eyebrows.
At a press conference in Accra yesterday, convener of LMVCA, David Asante said, "The LMVCA wishes to serve notice to the EC that Ghanaians will not accept the work that it claims to have been done by Dismas Ong'ondi as constituting a credible, comprehensive, independent, competent audit of Ghana's biometric voter register."
 
Concerns
That, the group said, was because its checks had established that Dismas Ong'ondi is the former ICT Director of Kenya's Independent Electoral and Boundaries Commission (IBEC), who was embroiled in a controversy over the integrity of Kenya's biometric register in their 2013 general election which also ended up in the Supreme Court.
"Let us remind the Charlotte-Osei-led EC that the separate petitions filed by Kenya's defeated presidential candidate, Cord Leader Raila Odinga, and activists Gladwell Otieno and Zahid Rajan, challenging the election of President Uhuru Kenyatta, were largely anchored on the failure of the commission's ICT infrastructure on election day," David Asante stated.
He was therefore baffled that the dismissed head of the ICT Department of IBEC was the very person Ghana's EC deemed fit to commission to audit its version of the controversial biometric register.
.
"Last July, Dismas Ong'ondi himself admitted before a parliamentary enquiry in Kenya that the biometric voter registration data that was used during the East African country's disputed March 4, 2013 polls had not been verified before being fed into the identification devices, leaving room for possible manipulation and failure," he recalled.
Dismas Ong'ondi was under investigations when he was sacked from Kenya's Electoral Commission on allegations of 'incompetence' and 'espionage' which according to the IEBC chairman, Ahmed Issack Hassan, "contributed to the failure of technology" in Kenya's disputed 2013 elections.
He was said to have also "lacked the necessary qualifications" and "credibility" to manage such a sensitive directorate.
 
Stakeholder Consultation
It therefore beats the imagination of the leadership of LMVCA that the "Charlote Osei-led  EC found him the most experienced and competent for the job of auditing Ghana's disputed electoral roll more seriously on the blind side of all the political parties."
For them, "the EC is essentially saying that 'for those of you who think that an audit is enough to fix what is wrong with the register, it has already done that… therefore, not only are we not giving you a new register, we are also not going to have any audit because that has been done.'"
Meanwhile, the Supreme Court in its election petition ruling spoke about the need for greater stakeholder consultation in getting electoral reforms done whiles the report of the VCRAC Crabbe's five member panel said it is a "shared responsibility" of all political parties and the EC to ensure that the country has "a register of voters as credible and as clean as possible."
The LMVCA insisted, "The EC used its discretion ill-advisedly not to involve IPAC in the process to appointing this independent auditor."
By Charles Takyi-Boadu