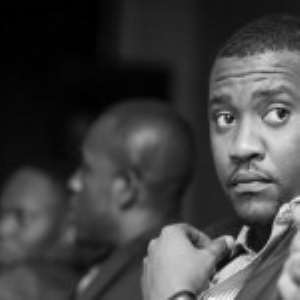 John Dumelo
I have seen, read and heard the torrents of attacks on John Dumelo, one of Ghana's most adored movie icons. Some have even threatened his life. His crime? He said the main opposition leader, Nana Addo Dankwa Akufo-Addo will not be the next President of Ghana.
"I have nothing against Nana Addo," the actor said in a tweet, "but I only see one person being sworn in come January 2017 and it's not him (Nana)."
Nana Akufo-Addo lost the bid to become president twice. The 2016 election is his last attempt. So his followers and devotees of the New Patriotic Party (NPP) did not take John Dumelo's tweet lightly.
I consider the attacks reprehensible, absurd and intolerant. Why do you attack someone for merely expressing his or her opinion? What does our constitution say? Article 21 (1) of that Sacred Book of our Land says, "all persons shall have the right to:
"(a) freedom of speech and expression, which shall include freedom of the press and other media;
"(b) freedom of thought, conscience and belief, which shall include academic freedom."
The constitution does not say the freedom of expression or belief or thought should be subject to what would please everyone. So why do we crucify someone for merely expressing their beliefs?
That is John Dumelo's belief! He believes Nana Akufo-Addo will not be president of Ghana. He has the right to hold that opinion or belief. Beyond that, he also has the freedom to associate with any political party of his choice. The has the absolute right to choose which candidate he wants to support for the 2016 elections. He has chosen John Dramani Mahama. Period!
There is absolutely nothing wrong with that. He does not occupy an office, which the constitution bars from partisan politics. Many of those who insult him also have similar beliefs about some politicians and leaders. They may not have the courage to say it publicly. But it is not an act of sacrilege to speak your mind on who you think can or cannot be president of Ghana. That thinking and attitude have no place in the civilisation of the 21st century.
Instead of insulting John Dumelo, tell him and people like him why your preferred candidate can be president. Or why John Mahama should not be re-elected in 2016. That is the beauty of democracy. It is the battle of ideas, not the battle of insults.
Instead of insulting John Dumelo, remind him that he is not God to determine who becomes President and who will not.
Remind John Dumelo that when the year 2012 began, some of the ministers and appointees currently serving under President Mahama treated him with contempt. He was Vice President. They didn't know that John Mahama would ever have the opportunity to be the flag bearer of the NDC let alone become President. But such persons are not God. The man they despised is the man they now take orders from. Later that year, President John Mills died and the lots unanimously fell on John Mahama, the man John Dumelo has chosen.
Instead of attacking John Dumelo, remind him that though he has 210,000 followers on Twitter, more than 3,400,000 likes on Facebook and over 855,000 followers on Instagram, he has only 1 (ONE) vote on November 7, 2016.
If the fear of the NPP and the hope of the NDC is that John Dumelo is the Ghanaian celebrity with the highest following on social media, let me remind them that his followers are not a bunch of dimwits. John Dumelo's followers are not idiots. They think, at least a majority of them. They may see him as a great movie star but not as a deep political thinker and analyst. Everybody has their areas of expertise and may fail woefully if they venture into territories they are clueless about. Ben Carson and Donald Trump are great subjects for any case study in this regard.

John Dumelo with Nana Akufo-Addo in 2014
John Dumelo's followers will not shun Akufo-Addo because he says the man will not become President. His followers will not vote for Mahama just because of his endorsements. John Dumelo's followers who are voting in the November polls live in Ghana. They experienced the three-year acute power crises. They experienced the job losses. They are mostly young people who have finished university and other tertiary institutions and are moving from one organization to the other with application letters tucked under their sweaty armpits looking for non-existing jobs.
John Dumelo's followers know that government has frozen public sector employment and IMF will not allow them to get more jobs. They know that the power crises and the mismanagement of the economy led to the collapse of businesses that could have employed them.
John Dumelo's followers pay taxes. They pay for electricity and water. They pay for fuel. They see the corruption that has been institutionalised in the Mahama administration. They know corruption is as old as Adam as President Kufuor once said, but they also know that under Mahama, that "mass murderer" has gained legitimacy. They are aware of the impunity that has been emboldened by the inactions of the government. The thieves now dictate their terms of repayment of the stolen money, and that's the worst form of punishment.
When John Dumelo's followers go to the ballot box to choose their leader, these factors, as well as the "unprecedented achievements" of the government, will shape their decisions. They also have their ethnic affiliations. Many factors will determine who gets their vote. They may not remember John Dumelo. Or what he said.
.
People should not attack John Dumelo and make it appear as if the outcome of the elections depends on celebrity endorsement. If celebrity endorsements were the basis for winning elections, then Professor John Evans Atta Mills of blessed memory would not have come anywhere close to Nana Addo Dankwa Akufo-Addo in the 2008 elections.
If the many singers and showbiz stars who endorsed and sang for the NPP in 2008 were not vilified, why should those doing same for the NDC be vilified and threatened? People should leave John Dumelo alone if they don't have anything of substance to say.
The only sensible and logical thing to do if you don't agree with him is to subject his statement to intellectual debate. That's the best way to deflate someone's opinion if it is shallow. Insults solidify it. And wins sympathy for him. John Dumelo has made a choice. He has decided to see no evil, hear no evil and speak no evil of the Mahama administration. It is his right to do so and this tweet is not his first action.
Some celebrities last year joined hands to protest against the power crises in the country. John Dumelo was not part of them. He reminded us that Rome was not built in a day so we should give the president time fix the challenges. To some extent, he was right, except that he forgot Rome would never have been built if the building materials were stolen with impunity as we witness in our dear republic. There were exchanges between him and actress Yvonne Nelson, who organized the protest.
It appears the admiration which John the actor and John the President have for each other is mutual. When President Mahama granted that image-enhancing interview to the state broadcaster last year and was asked to name his favourite actor, he mentioned John Dumelo. Do you know how it feels to be endorsed by the President? If you are not like me, who would first consider the image of the person making such endorsement, it will always mean a lot.
I also disagree with those who say showbiz stars should stay out of politics. In all political struggles of human history, be it the apartheid in South Africa or the civil rights movement in the United States, celebrities have played an important role. In recent times, Oprah Winfrey and a host of black American celebrities endorsed Obama's candidacy.
"I have great respect for Hilary Clinton. I think I've said this before and it's true: Because I am for Barack does not mean I am against Hilary or anybody else," Oprah told CNN's Larry King in May 2007.
What John Dumelo said is not different from what Oprah said, except that the websites misreported him. The headlines were "Akufo-Addo Cannot be President."
The stakes in the 2016 elections are high. A few celebrities have made their positions known. Many more will throw their weights behind their favourite politicians this year. It is their right to do so. We should not vilify them. What we should rather question intellectually is the motive behind the endorsements? Why did the NPP, the incumbent party with a lot of money, get more celebrity endorsements in the 2008 elections than the NDC? And why is the trend changing in 2016? Are they using their influence to make money from the politicians or they are using it to push for responsible governance, development and the general good of Ghanaians?
When President John Mahama visited the Volta Region last year, pictures emerged of John Dumelo and actress Selassie Ibrahim. Not long afterwards, news broke of an outrageously inflated bus-branding contract that had been awarded to Selassie Ibrahim. John Dumelo describes himself on his official Facebook page as an "African actor/director, businessman and philanthropist."

John Dumelo, Selassie Ibrahim and actor Pattinton Papa Nii Papafio
I don't know the nature of his business and no one has been able to say how his endorsement of the President has helped him get a scandalous contract. If that is established we can be right to criticize him. But until then, let's respect his right to  choose John Mahama.
All of us who vote have our preferred candidates. Even as a journalist, I have said many times that I am not neutral. I don't like the game of cricket. So if Pakistan and Uzbekistan are playing cricket, I can be neutral. However, I cannot be neutral as long as the ruling (or ruining) of this nation is concerned. I can only be fair and balanced in my work as a journalist. If I am alive on November 7, I will vote. So I am not neutral. I am not a hypocrite.
Charles de Gaulle teaches us that "politics is too serious a matter to be left to politicians." We should not sit down and allow the likes of Sam George to determine the fate of this country and its future.
The NPP supporters who are attacking John Dumelo for endorsing John Mahama would have praised him to the heavens if he had endorsed Nana Akufo-Addo. I have personally experienced this in my line of duty
The NDC sympathisers who used to enjoy my articles and praise me to the heavens are the same people who now insult me on social media every day. The problem is not that I have changed. I am still the same journalist they loved and adored. The only problem is that they are now in government and my writings do not favour the government. If you doubt what I am saying, ask Stan Dogbe who used to be one of  the great admirers of my work. I know this because he told me when he invited me to the Castle for our first meeting. It was my first visit to the seat of government.
And I know the NPP supporters who are praising me and quoting my articles like a memory verse for heaven will be the same people to vilify me if they find themselves in government in 2017. If you doubt what I am saying, ask Kojo Asiedu-Odei, the first person to write a rejoinder to my article. That was back in the Ghana Institute of Journalism when my articles were written on A4 sheets of paper and posted on tree trunks. He accused me of being NDC because NPP was then in government.
So John Dumelo is not the problem. The problem is you and me. We have to be tolerant of divergent views and choices as we approach the 2016 elections. Ghana is all we have. And our peace is our biggest asset. Let's not ruin it. The lion and the antelope, I always say, are implacable enemies, but neither of them would set the forest that houses them ablaze.
God bless our homeland Ghana. And make our nation great and strong!
The writer, Manasseh Azure Awuni, is a senior broadcast journalist with Joy 99.7FM. His email address is [email protected]
-manassehazure