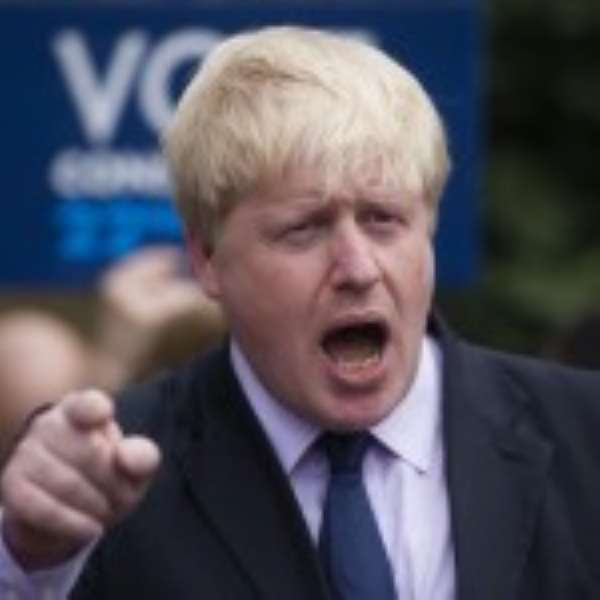 David Cameron has mounted a defence of his EU reform deal after it was questioned in the Commons by London Mayor Boris Johnson.
Mr Johnson – among the big hitters exit campaigners are hoping will join their side – has said the prime minister is "making the best of a bad job".
He asked the prime minister what the package would do to restore UK sovereignty and curb EU regulations.
Mr Cameron insisted he would get back powers over a string of areas.
Jabbing his finger on the despatch box to emphasise his point, Mr Cameron told his Conservative colleague: "I am not saying this is perfect, I am not saying the European Union will be perfect after this deal – it certainly won't be – but will the British position be stronger and better? Yes it will."
Mr Johnson has argued that it would be better if Britain was able to block EU laws on its own, without having to rely on the support of other member states.
Asked before the debate about whether he supported Mr Cameron's reforms, he said the PM was making "the best of a bad job".
But he added: "Most people looking at this will think there's a lot more to do."
Mr Cameron is aiming to get agreement from all member states at a summit in Brussels in a fortnight, paving the way for a referendum on whether the UK should remain in the EU in June.
He told MPs the details would need to be pinned down during the course of the "intense" round of negotiations – but the draft deal hammered out with top EU officials was the strongest ever achieved on freedom of movement rules.
The prime minister urged Tory MPs to vote "with their hearts" based on what they believed was right for Britain and not what "might be advantageous" to them personally.
That did not stop Eurosceptic Tory MPs lined up to criticise it, with Jacob Rees-Mogg saying Mr Cameron had two weeks to salvage his reputation as a negotiator after serving up "thin gruel" which had been further watered down.
Labour leader Jeremy Corbyn said his party wanted the UK to remain in the EU but he dismissed the prime minister's renegotiations as a "smoke and mirrors sideshow" and said he had "ended up exactly where he knew he would be, making the case to remain in Europe".
In a separate development, the first ministers in Scotland, Wales and Northern Ireland have written to Mr Cameron calling on him not to hold the EU referendum in June.
In a joint letter Nicola Sturgeon, Carwyn Jones, Arlene Foster and Martin McGuinness warn that with elections in Scotland, Wales and Northern Ireland in May, a referendum campaign running at the same time "risks confusing issues at a moment when clarity is required."
They also say it would make it "virtually impossible" for political parties in these areas to work together on the referendum campaign while their own elections are in progress. Alan Johnson, who is leading Labour's remain campaign, has said he will not oppose a June referendum. Cabinet ministers for exit?
.
At Prime Minister's Questions, Mr Cameron insisted voters would be "perfectly capable" of coping with two separate ballots.
Downing Street says ministers have agreed not to challenge Mr Cameron until he has secured a final deal at a summit in Brussels in a fortnight.
But the BBC understands several Eurosceptic ministers – including Commons leader Chris Grayling – are discussing whether to break ranks before Mr Cameron announces the date of a referendum.
Former defence secretary Liam Fox said he was "certain" four or five cabinet ministers would eventually join the campaign to leave, adding that the offer on the table meant that "what we can get, at best, is better membership of the wrong club".
Home Secretary Theresa May – who is on the list of Conservative big names the out campaign want to recruit – released a statement on Tuesday saying the reform proposals provided "a basis for a deal".
She said it was "encouraging" that key UK concerns about the "abuse" of EU free movement rules and the use of European law to block the deportation of foreign criminals were being addressed.
UKIP leader Nigel Farage has, meanwhile, told MEPs Mr Cameron's deal was "hardly worth the wait" and "really rather pathetic", adding that it had "no treaty change, no powers returned, and no control of our borders".
But European Commission President Jean-Claude Juncker talked up the draft deal in a speech to the European Parliament, saying: "The settlement recognises this – it recognises that if the United Kingdom considered that it is now at the limit of its level of integration then that is fine.
"At the same time it makes clear that other member states can move towards a deeper degree of integration as they see fit. In this way we have addressed the prime minister's concern while respecting the treaties."
The draft deal includes an "emergency brake" to restrict in-work benefits for EU migrants. But it would have to be agreed by other EU nations and it would be "graduated", with more money from tax credits paid to migrants the longer they remain in the UK.
The draft says Mr Cameron's demand to exempt Britain from the EU principle of "ever closer union" between member states would be written into a future treaty, and there are also measures relating to protection for non-euro countries in the EU, a new way for member states to club together to block some new EU laws and on business regulations. What the papers say
After weeks of speculation about David Cameron's talks over the UK's relationship with Brussels, the papers finally get to assess the full package of proposed reforms.
"EU chief Donald Tusk saw him coming," the Sun says. The Daily Express is also scathing saying: "The only good thing that can be said for his efforts is that they clear the way for a referendum this summer. We say bring it on."
The Mirror argues there is a "good case" for Britain staying in the EU but that Mr Cameron "isn't communicating it when he's more interested in presentation than substance".
But the PM wins support from the Financial Times, which says: "For all the criticism, Mr Cameron looks set to secure a reasonable deal for Britain. In each of the areas where he has sought reform, the prime minister has made tangible progress".
-bbc