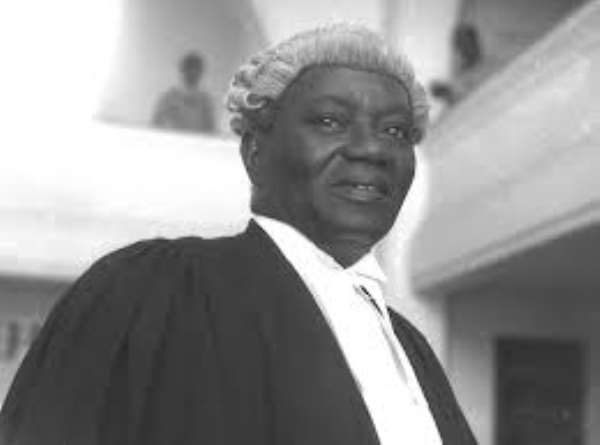 03-02-2016
Dr. Joseph Boakye Danquah
Ofori Panin fie
Kyebi – Eastern Region
Dear Dr. Danquah,
TROUBLE LOOMS AT
HOME….
Accept my fraternal greetings and profound apologies for disturbing your long sleep of death. Since your untimely and painful demise a lot has burned under the furnace – our political tradition has had its moments of glory - not in the too distant past, we uninterruptedly enjoyed the sweets of state power for two-terms under John Agyekum Kufuor as President of the Republic of Ghana. I believe the likes of Prof. K. A Busia, S.D Dombo, Victor Owusu, Paa Willie, R.R Amposah, Tolon Naa, Prof Aduboahen, Madam Hawa Yakubu et al, some of whom were your contemporaries, have already given you a detailed account of the happenings during their epoch after you had long gone to your Maker.
Truth, as it is stated, is like poetry and people unfortunately hate poetry. I do not wish to bore you with so many words, nonetheless, the truth can no longer be concealed under the guise of protecting the party's image since it has far reaching consequences on the present and future of our tradition, which together with other like-minded persons, you firmly laid its cornerstone some many years ago at Saltpond – it must also not escape your lenses as a person who was deeply rooted on fundamental issues surrounding the affairs of men. However, I shall be measured and guided not to be dangerously revealing such that I do not throw away the baby with the bathing water.
Sir, trouble looms at home. I know you won't be a happy man after my narrative – a belly burning disappointment is what will greet u wherever u are, after all, this certainly wasn't the sterling virtues you stood and died for. I am greatly afraid of burying my conscience and principles for any fleeting vanity. It is this resolve that has inspired me to rise to the occasion and ask for your intercession by speaking life beyond the grave back into our tradition before the inevitable happens. Like Edmund Burke posited, 'the only thing necessary for the triumph of evil is for good men to do nothing. He also lamented that 'nobody made a greater mistake than he who did nothing because he could do only a little'. Great nations and institutions were built on courage, fairness, truth and justice. I have no doubt that the change we seek with-OUT, must be seen with-IN, only then can we demonstrate CHANGE GHANAIANS can BELIEVE.
For this reason, I ask to quickly to revert your attention to the newest craze of the extremes of our internal party politics. Our party has in recent times seen a departure from its foundation values and embraced political wrongs such that travesty of justice, intimidation, insults, unfairness, vilification, intolerance of divergent views, violence and the culture of silence is now its anchor – this is curmudgeonly, regressive and backwoods communism clothed in the sheep-skin of instilling discipline into the party coupled with the twinge of conspiracy theories for good measure. Ironically, the application of these unjustifiable acts and rules guiding our tradition are selectively manifested depending on which bloc of the divide one is perceived to be aligned to by those who claim to be the mightily even in the wrenches of opposition as a political party.
The NPP has been fractured in such a way that it will take greater effort, maturity, honesty and sincerity by noble men to bring the party together. Our current crop of leadership have failed to set the conditions for the survival of this party. The politics of opportunism, sycophancy, convenience, and alienation has given rise to suspicion which is worsening the superb opportunity for the NPP to recapture power in 2016. Like a friend sarcastically puts it, those who accuse everybody of eating from the pots of the NDC forget that they are the once who wash the kitchen utensils.
Sir, what I have witnessed over the last two years of my young life, has given me a painful sense of how politics can be cruel and Machiavellian. It reminds me of the similar fate you suffered during your time whilst trying to selflessly put this country and her people on the path of progress and honour. I have seen how fantastic ideas where rejected because it came from certain particular leaders of our party.
I have seen how efforts to reform the party into a dignified and a purposeful electoral machinery was cantankerously abated because some unseen hands believed it will strengthen those leaders who sought to make that proposition possible – it was very embarrassing for those persons to have focused on individuals rather the benefits and opportunities the party would have derived from those reforms. I have also seen how daily lies and plots were calculatedly unleashed on certain leaders of our party in order to fit into a well-thought out agenda to short sleeve their mandate.
This was because some people never understood how they defied all odds to clinch to the seats of authority within the party. I am bedevilled, and sometimes left to wonder why we all voluntarily decided to join this tradition of ours and for which purpose? Our wounds are self-inflicted and the party today is characterized by progressives as a weaker government in waiting.
As a die-hard adherent of the Danquah-Dombo-Busia tradition, I must canvass courage and integrity to stand up against injustice, arbitrariness and the 'rule of men' which has dominated our party in recent times.
Fortunately for me as a student pursuing law, I have read in extenso the infamous Re Akoto case which you advocated for as the lead Counsel for the accused persons. The decision by the Learned Justices in that very case was one that has till date left a scar on the judicial system of our land - posterity has proven you to be right. The judgement in that case was legally defective, thoroughly criticized and against the 'spirit and letters' of the then 1960 constitution. In your erudite submissions to the then apex court of the land, you largely emphasised on the Supreme authority of the constitution, discrimination against political beliefs and the inalienable rights of the individual. Undoubtedly, the tradition you greatly help founded with these values is suffering from almost a similar fate today.
Sleep they say is the cousin of death, and I believe strongly with everything within my bones that the purported suspension that was meted out to the high profiled persons within our party including some constituency officers who came to Accra to express their disgust through a peaceful protest is a cousin of the judgement in Re Akoto. It was a parochial political decision rather than a legal decision based on facts and law. Our party constitution has been thorn into pieces and our virtues defiled without reason by men who ought to have known better. I do not wish to remind you of your own agony, but, as fate will have it, you died similarly as a result of the iron fist of men in authority through the dreaded Preventive Detention Act. It is for this reason, that I boldly ask all those who condemned the decision in Re Akoto to resoundingly condemn the injustice in today's NPP.
For an educative measure Dr. Danquah, permit me to also quote for you portions of the book 'Politics in Ghana' which was authored by Prof. Michael Aaron Quaye. On page 70 and 71 of his book, he indicated that ''the rule of law also lays down certain rules of procedure which must be followed by whoever adjudicates on the right of the citizen. This is to prevent a Kangaroo Court System – the existence of which precludes a regime from claiming to be democratic. The tenets of Rule of Law include the following I) every adjudicator must hear both sides before arriving at a verdict relating to any controversy or accusation; II) every side in a controversy is entitled to have its case duly considered before a decision is taken.
This includes all relevant factors in an issue III) no man shall be a judge in his own case IV) reasons must always be given for a decision reached V) justice must not only be done but it must manifestly be seen to be done''. Unfortunately, all these ingredients were lost against all the persons who were premeditatedly removed from their various office through a higher penalty, thus, indefinite suspension. Surprisingly the learned Prof and author, was part of those who took that decision to reverse the mandate the people had entrusted through elections in Tamale. The staggering irony is cancerous even, to say the least.
Sadly, the people of Ghana whom we shall be engaging to mandate us with political power this year are caught up between Scylla and Charybdis. They look to the right and see a troubled opposition party pretending to be formidable and to the left, a ruling government struggling to get the fundamentals of the economy right and also pretending to be changing lives and transforming the country.
It is for this reason that I have chosen today, the day of my hallowed birth to call your spirit to action, to invoke the immortal spirits of all foundation members of our enviable tradition to intercede for the once enviable peace and cohesion back to our esteemed party.
In a room where people unanimously maintain a conspiracy of silence, one word of truth sounds like a pistol shot. Though an unbelieved truth can hurt a man much more than a lie, it takes great courage to speak the truth unacceptable to our times.
There's a punishment for it, and it's usually crucifixion; one I would gladly take if it means the restoration of a much revered tradition of the peace that comes with "standing in our own truth" as a political party.
I am confident that the change Ghanaians seek, is one the NPP can undoubtedly give, but our words are only as good as our deeds; what Ghana needs is CHANGE WE CAN BELIEVE, the demonstration of which begins at home.
Beyond the grave, grant the wisdom of counsel to our leaders on the depth of insight expressed in the proverb of the broom, of unity that focuses on the strength of numbers but not parochial, of freedom of expression that focuses on the trusted tenets of democracy which you so passionately fought for and to refocus our energies on the important job of re-capturing political power to give every citizen of our land the dignity and opportunity to attain prosperity.
Till we meet again, continue to rest in peace Dr. Danquah.
Yours Truly In Service To Party and Country,
Chief Obosu Mohammed
NPP member, Mfantseman