30th day of January 2015 will go down in the history of Spain as members of New Patriotic Party (NPP) Spain Branch gathered for the first time in VIC a sub of Barcelona, to form its INTERIM EXECUTIVTIES COMMITTEE to run the affairs of the NPP Spain Branch.
The conference was attended by all NPP Chapters in Spain and also to grace it by the Jacqueline Boatemaa Bonsu a parliamentary aspirant in the 2015 Nkoranzaeh South primaries which Mr. Charles Konadu Yiadom was elected as the parliamentary candidate (PC) and Mr. Adjei Nakansah from Belgium Branch of NPP.
The vice chairman for VIC Chapter Mr. Kennedy A. in his address indicated VIC will like the formation of interim executive committee but it must be 2 rep from each Chapter.
Zaragoza Chapter chaired by Mr. Lamptey, thanked all delegates and members for coming to make history in the NPP Spain Branch, he said Zaragoza Chapter has 3 main agenda for the conference namely: Interim Executive Committee, Registration & Head office location adding that the 2016 election should be issues base on.
He went on to tell the members Zaragoza has gone to consult a lawyer for the above and show documents to the house to prove what Zaragoza chapter are talking about.
Barcelona Chapter Chairman, Edward Antwi, with the Girona Secretary, Mr. Akobeaheneba Osei-Wusu, all supported the formation of Interim Executive Committee.
Mr. Andrews K. A Chairman of Martorell Chapter in his address said it's important for the NPP to learn how to talk by not using fowl words but should talk about issues anytimr they had the opportunity and also try to make a unite front.
Llerida Chapter with its Chairman Mr. Alex W. A was the last to give his address.
In line with the Chairman, he agreed for the Interim formation but stressed that people who would like to be in the Interim must be given the chance to talk so as delegates may know them and what they can do to the growth of the NPP Spain Branch.
At the end 3 nominees from each Chapter were elected as INTERIM EXECUTIVE COMMITTEE OF NPP SPAIN
Here is a full list of executives:
POSITION NAME
CHAIRMAN Mr. FOSU K.
1ST VICE CHAIRMAN Mr. SANKO M.
2nd VICE CHAIRMAN Mr. KENNEDY A.
GENERAL SECRETARY Mr. Lamptey J. N.
ASSITANCE GENERAL SECRETRAY Mr. ASARE P.
TREASURE Mr. Bio I.
FINANCIAL SECRETRAY Mr. ANKAMAH A. K.
ORGANIZER Mr. ACHANA A. W.
DEPUTEY ORGANIZER Mr. Ankobeaheneba O. W
WOMEN ORGANIZER NALNA S.
DEPUTY WOMEN ORGANIZER BOATENG B. S.
YOUTH ORGNIZER Mr. AMPONSAH M.K
DEPUTY YOUTH ORGANIZER Mr. KYENKYEHENE H.
DIRECTOR OF COMMUNICATION Mr. APPIA A. B
DEPUTY DIRECTOR OF COMMUNICATION PETER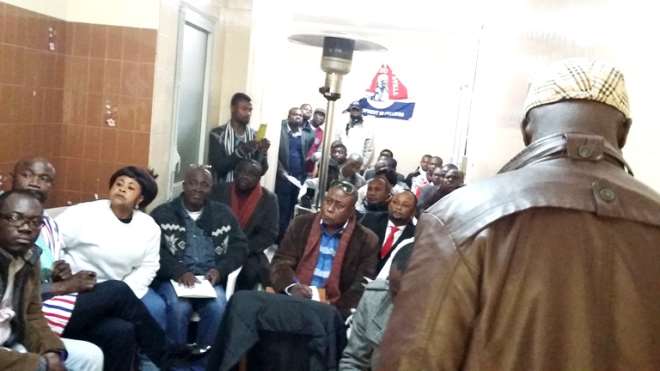 20160130 141228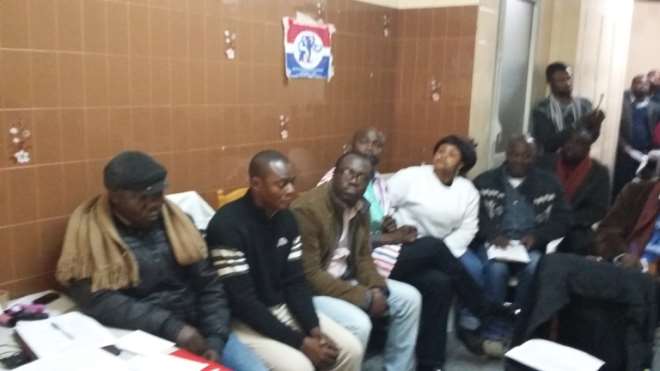 20160130 141235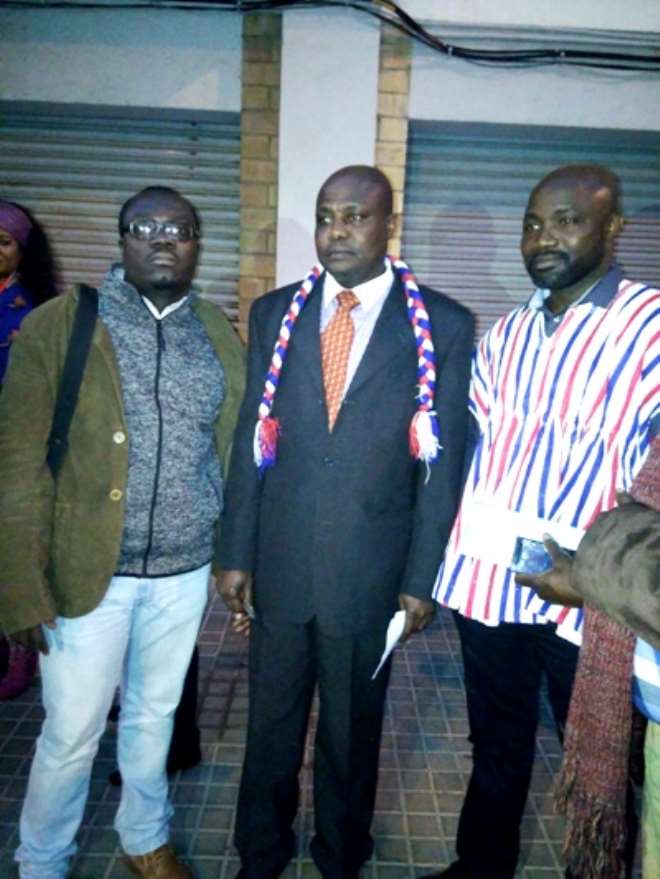 IMG 20160130 182139