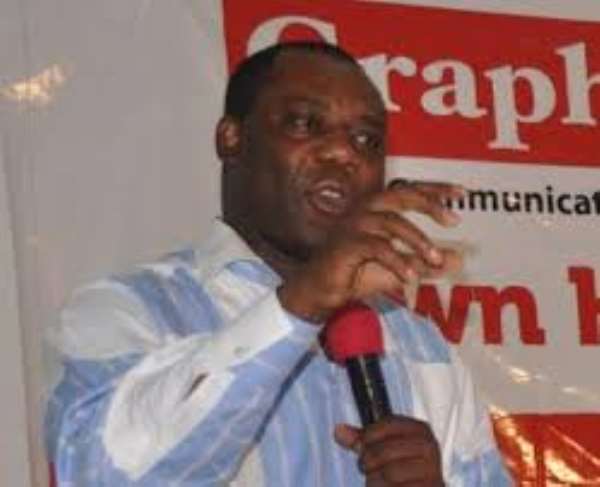 Matthew Opoku Prempeh
NO Ghanaian who suffers from high blood pressure would have had his condition made any the better if he/she had read this story that was published on 30 January 2016:
QUOTE: "15 more Gitmo detainees expected in Ghana"
[The] Member of Parliament for Manhyia, Dr. Matthew Opoku Prempeh, is alleging that President John Dramani Mahama negotiated for 17 Guantanamo Bay detainees and not two, as claimed by Ghana government officials. According to him, fifteen (15) more Guantanamo Bay prisoners are on their way to Ghana.... Speaking exclusively with Adom News' ... Dr. Opoku Prempeh, popularly known as Napo, accused President Mahama and his foreign affairs minister, Hannah Tetteh of concealing the truth from Ghanaians." UNQUOTE
Why should this story have agitated Ghanaians?
It is because arguments have not ceased raging over the merits of accepting the Gitmo-2 in Ghana, given their connection to Al Qaeda, and the recent increase in Al Qaeda activity in West Africa, especially Mali, Burkina Faso and Nigeria.
The most crucial question serious analysts are considering is this: What will Al Qaeda say to our accepting the Gitmo-2?
If, as can be expected, Ghana's willingness to accept the two men marks her out as a self-confessed "partner" of the United States in its "war on terror", what consequences will flow from an Qaeda assessment of that fact?
Will Ghana be regarded by Al Qaeda now as an "enemy" country that can be targeted at will without any scruples? (As if Al Qaeda needed any!)
These questions have, of course, not been adequately answered by anybody from either our Government or the US Embassy in Ghana. All we've got are assertions without any proof that the men are no longer dangerous. Some have even parroted the argument – first advanced by President John Mahama himself and later peddled by some paid hacks – that because Ghanaians are known to be largely imbued with Christian "compassion", they should accept the Gitmo-2, no matter what danger they pose to us.
Other obtuse Ghanaians, obeying the imperative to support Governmental action without subjecting it to serious analysis, have taken the religious argument to an even more dangerous level, by claiming -- as they do -- that the Christians in Ghana who have criticised the deal do not want the ex-detainees merely because the ex-detainees are Muslims.
That is absurdly illogical, of course, because, first of all, the Christian "compassion" being invoked is not supposed to be absolute but highly qualified. What Jesus Christ, whose word forms the basis of Christianity, said was: "Love they neighbour as thyself". He never said "Love thy neighbour more than thyself"!
Secondly, the Christianity-versus-Islam argument is also hollow because the people being slaughtered by, say, Al Qaeda's affiliate, Boko Haram, in Northern Nigeria, on a daily basis, are themselves, mostly Muslims.
So also are most of the people being killed in Mali, Niger or Burkina Faso by Al Qaeda in the Islamic Maghreb (AQIM). Of course, Christians – especially white foreigners assumed to be Christians – are also a main target of AQIM. But that does not negate the murders that Aqim commits against fellow Muslims.
The complicated targets of terrorism therefore make the simplistic Christian-versus-Islam argument being disseminated in Ghana to mask the realities concerning the Gitmo-2, is a shameless dose of blackmail being sold to the Ghanaian populace through the mouths of naïve propagandists who wouldn't recognise any of the schisms afflicting the Islamic world, if it landed right in front of their foreheads as they pressed it to the ground in a Mosque.
Enough confusion already? Not quite: stir into the mix, the letter sent to the Chairman of the US Senate Appropriations Committee by four of his fellow Republicans, asking the Committee to lop " $10 million" off the aid earmarked for Ghana in 2017, for each of the detainees that the Ghanaian authorities are unable to keep strictly out of circulation.
The Honourable Opoku Prempeh must surely be aware that all these aspects of the issue are being discussed in an unending debate in the media and on the Internet. Yet he goes to a radio station and casually throws a verbal grenade, as it were, into a crowd that is already slashing at one another with machetes and swords!
"Ho!" (he says to us in so many words) "you are worried about thetwo ex-Gitmo detainees? You ain't seen nothing yet! Fifteenmore are on their way! Your Government negotiated to take seventeen– only it hasn't told you! So, expect the other fifteen!"
Sure, the MP is entitled to impart such information to his fellow citizens. But he is not entitled to play with our emotions in that way without providing any SOURCE WHATSOEVER to substantiate the explosive information he was unveiling. As an MP, he must know that his words would weight with the public, and he therefore ought to be very responsible when discussing sensitive issues.
I don't know the Honourable Opoku Prempeh. But he appears to be well-known to the media, which refer to him in parenthesis with the obscure sobriquet:, "Napo".
That is, of course, a shortened form of the name of one of the most notorious Generals in European history, Napoleon Bonaparte. Is the Honourable Opoku Prempeh called "Napo" because he is short in stature? (Emperor Napoleon Bonaparte was a very short man!) Or is he called "Napo" because he is a "by-heart" man? (Napoleon Bonaparte was such a "by-heart" General that he invaded Russia "by heart"! (That is, he ignored the advice of his own Generals and launched an invasion against Russia in the very severe winter months of Russia.)
Well, "Napo" has not done Ghanaians any favours. First of all, he has created a lot of confusion, and an argument has already started about whether he is telling the truth or not. If he goes to www.ghanaweb.com and reads the extremely unkind "comments" that have already been made about his statement, he will probably be more careful in future about making unsourced statements on highly emotive issues.
At the very least, he should provide a little flesh to clothe the bare bones of the statement he made, namely, that : "fifteen more Gitmo ex-detainees are on their way to Ghana! When will they be sent? When was the agreement on their "rendition" to Ghana reached? Will Ghana be punished – as per the letter of the Republican Senators – if she refuses to accept these fifteen?
By distracting our attention away from the Gitmo-2 and diverting it to such new questions, our Honourable Member of Parliament has not been fair to us. Nor has he been fair to himself. For does he not realise that he could be easily accused of being an American agent who is being used to (1) "swerve" Ghanaians away from the two ex-detainees already here, by subtly airing the notion that their case is not as bad as feared, because there could be a worse scenario on the cards? Or (2) That, at the very least, he is being used as a sounding board to find out what the public would say if it was proposed that another 15 detainees should be brought to Ghana?
Indeed, if he believes that what he is telling Ghanaians is true, then it ought to be asked: what practical steps has he taken, as an MP, to get the decision reversed? Didn't his own party, the NPP, issue a statement saying that the importation of the Gitmo-2 was an illegal act, in that it infringed the provisions of Ghana's Anti-terrorism legislation? Why didn't he point to that fact in his statement about the 'Proposed Fifteen'?
Actually, we have to ask, what sort of Opposition (Minority Group) do we have in our Parliament? Look -- the Speaker of Parliament, Mr Doe Ajahoe, goes to a church and urges the congregation to "pray for Ghana" because Burkina Faso had been attacked by terrorists and Ghana could well be "next" to be attacked! Yet the Opposition do not seize the opportunity to either (1) table an Urgent Motion criticising the Government for putting Ghana's security at risk; or (2 to table Urgent Questions demanding to know from three Ministers – those for Foreign Affairs, the Interior and Justice – their role in, or lack of participation in, the discussions that resulted in the Gitmo-2 being brought to Ghana.
It should be pointed out that in some countries, a Parliamentarian, upon obtaining [secret] information that a further fifteen ex-Gitmo detainees were being imported, would have asked the Speaker to allow him to make a "Personal Statement" on the floor of the House. In the Statement, he would have outlined his allegation. He might also have divulged the information by way of an Urgent Question. (One of the duties of the Clerk of Parliament is to provide direction on such technical matters so that an MP might not infringe the rules of the House).
That is how the Parliamentary game is played. In either instance, the MP should have alerted the media, so that whether he was allowed to make his statement or not, the media would have been obliged to go to town with the core issues he had raised, or been prevented by the Majority from raising on the floor of the House.
If the Opposition sits on its hands over this issue, unable to create a major rumpus – either by staging a walkout, or deliberately inviting an ejection if necessary – they will have underwritten the notion that has been gaining ground in many circles, that our Parliament is a "useless" one.
And that, I fear, would be a most dangerous conclusion, for all manner of reasons.