Okyeman Youth Association Meets Okyenhene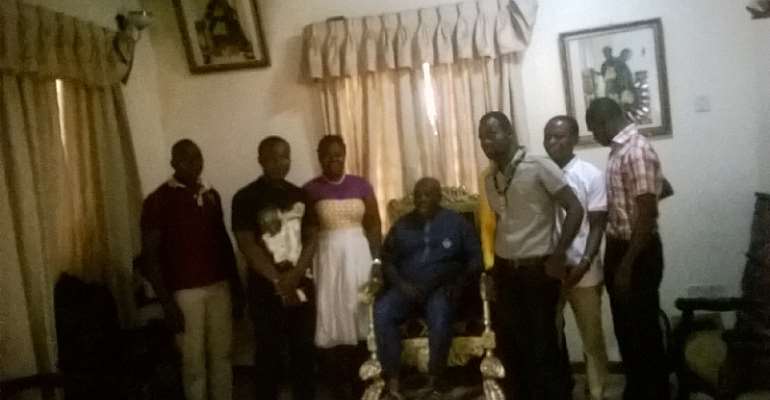 OKYEMAN YOUTH ASSOCIATION (OYA) PAID A COURTESY CALL ON OKYENHENE OSAGYEFUO AMOATIA OFORI TO DISCUSS ON HOW THEY CAN ALL SUPPORT TO THE DEVELOPMENT OF OKYEMAN
Okyeman Youth Association sent a six member delegation to Ofori Panin Fie at Adabraka in Accra on 29th January,2016 to discuss with His Royal Majesty Okyenhene Osagyefuo Amoatia Ofori ways to help tackle developmental problems in Akyem.
The six members delegation comprising of Nana Yaw Ampem Darko (Chairman) ,Nana Ama Darkwa Banning ( Vice President) , Nana Yaw Osene-Akwah ( General Secretary), Nana Kwabena Amoamah ( Treasurer), Marcus Mark Duodu (Funding Member) and Fredrick Anim Nyarko (Member).
Also present during the visit to the Ofori Panin fie were: Barima Yentumi Boaman (Abodeesahene /Chief of staff) , D.M Ofori-Atta ( Okyeman State Secretary), Okyeman Appiah amongst others.
We had paramount discussions on our way forward to help the development in Akyem. The youth are planning to start Agriculture Project in Akyem to help solve the unemployment problems in the country and Akyem.
We are humbled and thank His Royal Majesty Okyenhene Osagyefuo Amoatia Ofori Panin for opening his doors to us on this great day. We also assured to Respect, Project, Promote and protect Okyeman.
By this, we are embarking on Town to town Visitation to discuss with chiefs,Queen mothers , traditional rulers , opinion leaders and various Akyem youth on how to help in developing our towns.
Okyeman Tease!
Long Live Okyeman!
Long live Ghana
......Signed......
Nana Yaw Osene-Akwah
( OYA GENERAL SECRETARY )
0277170223 / 0554547843