Wikipedia Ghana Celebrates 15th Anniversary At Shaping Davos In Accra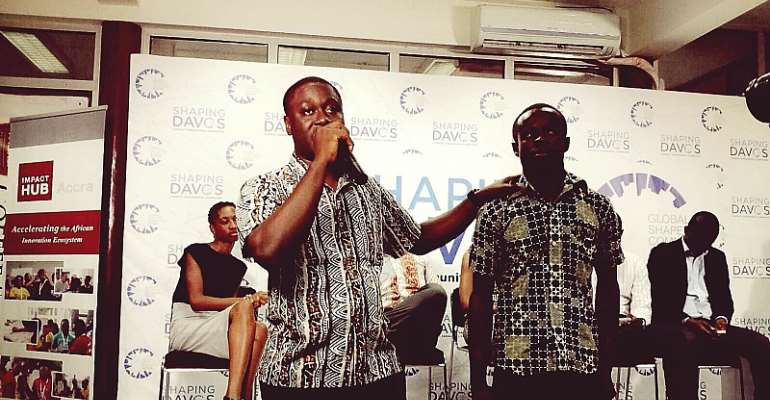 On January 15th 2001, two young men, in represent of Jimmy Wales and Larry Sanger embarked on a digital revolutionary trajectory and it paid off. Through a dint of hard work and dedication, they succeeded in creating one of the ever best gift to mankind, Wikipedia, the free internet based encyclopedia.
Fifteen years down the line, it now stands as a global product worth celebrating with lot of activities being undertaken around the world to mark its anniversary by cherished users and benefactors.
In Accra, leaders of Edit Ghana, a Ghanaian based Wikimedia User Group Felix Nartey and Raphael Berchie were supported by Prince Akpah and Felix Gborglah to talk about the anniversary and other Wikipedia activities being undertaken in Ghana at Shaping Davos hosted at the Impact Hub Accra.
Shaping Davos, a global event organised and led by young change makers recognised by the World Economic Forum as Global Shapers was hosted by the Global Shapers Accra Hub with support from various hubs across the country and attended by various young leaders in Ghana.
The Discussion which was based on "Creating 75 Million Entrepreneurs: Is this Possible?" was a prior event to the annual gathering of World Leaders and Entrepreneurs in Davos for the annual World Economic Forum.
From the discourse, the most important component implicated in the prospect of creating 75 million Entrepreneurs was 'Education' which falls precisely on the very tangent that Wikipedia stands.
The Edit Ghana team was given the opportunity to share the Wikipedia story and the various activities Wikipedia has been engaging in across Ghana where participants were also encouraged to contribute to the online celebration by sharing the best moments Wikipedia came to their rescues during their research and other activities.
The words that especially hit home were those of Mr. Raphael Berchie were he drew the whole of Africa's attention to a very worrying fact. "It pains me and rightly so that Antarctica, the less inhabited continent in the world has more images on the internet than that of the whole of Africa, the world's largest continent", he decried.
The resonating message of the exhilarating evening was that Africans need to chronicle their own stories else we shall remain anonymous to the world.
Also, globally, the Wikipedia article on the former US president George W. Bush attracted a record attention with 45,862 edits since its creation.