DCE Pledges Full Security For MDCC
....As They Prepares For 'Asomdwe Afe' festival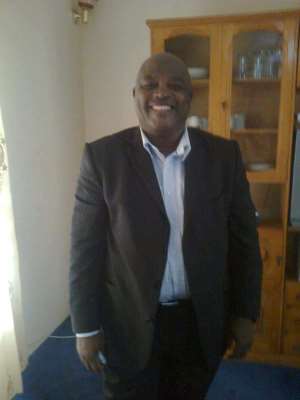 Hon. Theophilus Aidoo-Mensah
The Gomoa West District Assembly in the Central Region has pledged to offer full security for the Musama Disco Christo Church (MDCC) to enable them celebrate their annual 'Asomdwe Afe' (Peace festival) in August 2016, the DCE, Hon. Theophilus Aidoo-Mensah has announced.
Addressing the members of the church at Gomoa Mozano to climax their four day National Thanksgiving Service and Prayers for the Nation held for the peace of the country, Hon. Aidoo-Mensah observed that the festival serves as revenue booster for the Assembly and that there was the need to ensure that there would be peace and security without any interruptions.
He noted that the church through it's programs and activities has served as a source for revenue mobilization for the Gomoa West District Assembly thus paving the way for protection for its programs and activities. The DCE was happy that the church thought it wise to play for the peace of the country as the people especially political parties prepares feverishly for the November 7th Presidential and parliamentary elections.
" I wish to encourage other churches, Prager groups, prayer warriors, Moslem leaders, traditional rulers and individuals to emulate MDCC to sustain peace and stability ahead of the anticipated peaceful elections. I have always admired MDCC for their maturity and the way and manner national programs and activities has become their concern. On behalf of the Assembly I wish to commend the church for its partnership with the Assembly and the central government on its quest for peace and stability to prevail in the country"
Touching on development in the Gomoa West District, Hon. Theophilus Aidoo-Mensah stated that the district has benefited a lot from President John Dramani Mahama led NDC and called on the people in the district to vote NDC to continue its developmental projects to better the lots of the people in the district.
The General Secretary of the Musama Disco Christo Church, Rev. Isaac Kwesi Bagyina disclosed that the four day Special Thanksgiving Service and Prayers were held to pray for the Presidency, ministers, religious leaders, peace and stability and the he growth of MDCC.
He noted "We in the Musama Disco Christo Church must continue with fasting and prayers for the peace of the church and uplliftment of His mighty name"
Present were the NPP Parliamentary Candidate for Gomoa West constituency, Lawyer Alexander Kojo Abban as well as the NDC Parliamentary candidate for the same constituency, Sam Kwesi Fletcher