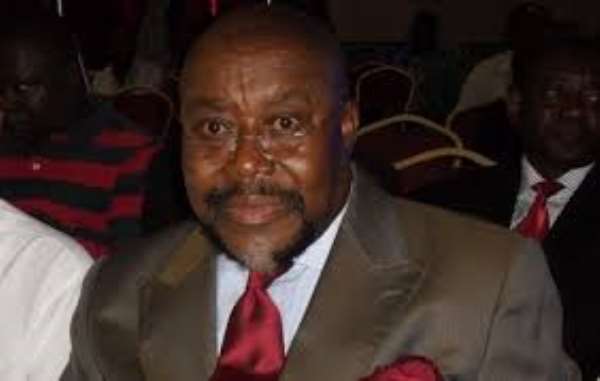 Nyaho Tamakloe
The demeanour of supposed luminaries who are never found wanting for extreme hate stemming from a lifetime of jealousy is aptly best described as "baboonish". For starters, the baboon is one animal that destroys what is built by productive people who sow the seeds of progress, love, and patriotism.
When for a dollar or two, baboonism takes over the faculties of educated illiterates, they can be aptly tagged as "Destructive Social Baboons", in assimilation with the uncouth and cumbrous nature of that primate.
Of recent times, Dr Nyaho Tamakloe has been everywhere but nowhere. He has not chocked any appreciable feat in his profession let alone politically, but has the effrontery to exhibit hatred towards honourable persons in our society. Much before the 2012 elections, he made unsound statements that did not augur well in the midst of majority of Ghanaians who were and still are craving for change. The shame is in the fact that he refers to himself as a founding member of the NPP; a farce by all means.
How could such a baseless human being be trusted with his irksome statements when he does not possess logic and prudence of wit to make sense at all? It has always been the way of losers to mock people who are by a distant stretch much more intelligible, knowledgeable and astute. He is not an NPP person otherwise his derogatory rhetoric will not dribble out of his stunned mouth that has no space except for the millions of dirty dollars that, it is alleged, he takes from John and Ibrahim Mahama, his nephews, to destroy the party.
Not too different is the case of Wereko Brobbey, who found favour with the NDC by an appointment for his relative, other than the millions of Dollars he gets paid by John Mahama for casting aspersions at the honourable figures of the NPP that he claims allegiance to as is suspected.
On another front, an apology to the arts that he is associated with, John Dumalor seems to pride himself in the effusive charlatanism that has become associated with and synonymous to his wishy-washy behaviour as a lazy demagogue for the NDC. It is important to note that not only is he a lazy one, but a lame misrepresentation of artistically talented people, too. His suspected status as a gay freak is indicative of the negative talk that he is circled in, which he believes is FAME…albeit he seems to be "Famous For Foolishness" … FFF. This is a new term I give to incredulous charlatans who sleep raw with the NDC just for a crumb or two of the fat pie that John Mahama and his scamps are eating; that big Ghanaian pie.
My good friend Francis Asenso wrote, and I quote, "Why cast aspersions on a man whose character you acknowledged as impeccable and worthy of the highest office of the land, only a few months ago, when u called on him to express your eagerness to campaign for. Permit me to recall the hallow words you spoke about your namesake President John Mahama on your visit to Nana Akufo-Addo sometime last year. You were disappointed in the President for supervising a corrupt and incompetent administration, for which reason, you offered to go round the country and propagate the good message of Nana Akufo-Addo and the NPP." This clearly exposed the undeniable fact that John Dumelor was just out to align himself with the highest bidder. Sensible people do not need empty dunderheads like this imposter of the arts.
It is very apparent that when fools take over governance, the people that are ruled over become downtrodden and disenfranchised. The nation has been reduced to a people frowned upon everywhere they went, tagged as goats for not rising up against government's hosting of perceived terrorists, and for turning a blind eye to the Create, Loot and Share that is rampant everywhere. The NDC numskulls will jump at me for writing this article, accusing me of disrespect.
Let me remind them that it was their Sam George, a Presidential Staffer, who condemned Ivor Greenstreet as a non-entity making fun of his disability with a surly most unsavoury statement that the latter needed elevation to see the better Ghana", with reference to his posture in the wheelchair. It was this same group of heartless brutes in the NDC who made fun of a blind minister when they went berserk over his nomination by their own Boss, mocking his visual impairment with slogans that his vision was 20/20, and that he was a sharp driver.
I am not in the least surprised at the sore utterances of Nyaho Tamakloe against Nana Akufo-Addo. Well, it figured that if one were jealous of the other, the natural thing to do would be to wage a war of defamation to taint their image. Oh lest I forget to note: the natural mode of waging such a war is instinctive of the dirty, filthy, and morally bankrupt thieving illiterates, be they educated or empty.