Live From The Woods: President Mahama's Hands Are Tied In Gitmo 2 Deal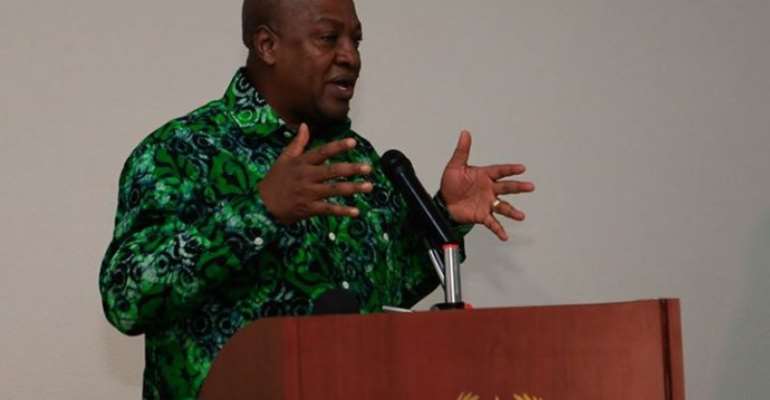 When I heard of President Mahama's decision to transfer the two former Gitmo detainees to Ghana on grounds of compassion, my reaction was, this better be good. What's more is that the president was described in many circles as peace-loving, compassionate, and a unifier who's agreed to accommodate people rejected by their own country, Yemen.
What rattled me beyond the cloud of compassion was when I heard officials from the U.S Embassy in Accra contradict the storyline the Ghana government nearly succeeded in selling to its citizens – that the U.S government will foot the expenses of the two.
Now I began to ask myself: was the president really moved by compassion to agree this deal or was he given or promised something in return? Why was the Minister of Interior and the Foreign Minister left out in this deal? And why didn't the president notify the People's Representatives in the Ghana Parliament before acquiescing to the deal? Did President Mahama know this year is an election year? So why didn't the U.S government agree to host the two former terrorists when it has all it takes to protect its people? Or was this shady deal the case of a superior nation versus an inferior nation? The absence of convincing answers to these questions shows how the nation was mortgaged by the President and some of his praise singing ministers. Leadership has become cheap in our part of the world indeed.
I am terrified for Ghana – more especially with the manner the leadership of the nation went about the whole deal. Recent revelations and contradictions by government functionaries – who lack basic information about the agreement – on the one hand and officials of the U.S Embassy in Accra on the other hand are indications of how bad the whole deal stinks.
Government buying into cheap information from the U.S administration is worrying. To be convinced that Khalid al-Dhuby, 34, and Mahmoud Omar Bin Atef, 36, are of no security threat to Ghana and its neighbors is to pass for a dummy. Mahmoud Omar Bin Atef, 36, is described by Western Media as having a lot of discipline infractions while at Guantanamo Bay – so how can we be sure that he's changed. These are persons motivated by their faith to maim even their own people who disagree with them. How much more Ghana?
There are three possible consequences this dummy action by President Mahama is likely to have on the nation, especially, considering the poor nature of our security system. First, we have granted, an unimpeded access to all sorts of groups to visit mayhem on our innocent people – Al Qaeda, AQUIM, IS, Isis, Boko Haram, Ansar-al-Din, Al Shabab, and Ansar-al-Sharia. Agreeing to host the duo is an invitation of trouble on ourselves. Second, the group these former Gitmo detainees belong could decide, for any other reason, to let them sneak out of Ghana – which per the action of the four U.S Senators would be dire for Ghana. Third, these groups may decide to use their former members to start a camp in Ghana, hence recruiting young Ghanaians into their ranks increasing the risk to the country and its neighbors.
President Mahama's hands are tied in this deal. His reactions tell it all. I don't see him going back to the negotiation table with the leadership of the U.S government to re-negotiate this agreement any time soon. This is why his party's communication team members have been charged to attack anyone who disagrees with the president's decision – a very bad one for a leader. What makes Americans more human than Ghanaians? Or perhaps they drink clean water whiles we drink blood here? There's something with the thinking of our leaders and people.