Oxford Business Group Launches 2016 Report On Ghana
....Country's Plans For Reducing Budget Deficit While Attracting Investment In Spotlight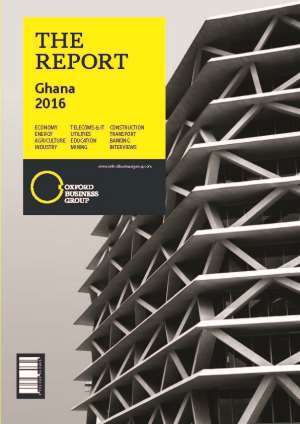 Ghana, January 2016: A new report on Ghana just produced by the global publishing, research and consultancy firm Oxford Business Group (OBG) charts the country's achievements in what has been a challenging year marked by fluctuating commodity prices, increased spending on public sector wages and electricity shortages.
The Report: Ghana 2016 considers the balancing act the government faces as it looks to attract investors while also bringing down the budget deficit. The publication also considers the implications of the landmark free trade agreement signed between ECOWAS and the EU in 2014, giving Ghana and other member states greatly improved access to key European markets.
Other topics explored include Ghana's push to boost its power-generating capacity through a raft of projects, including the construction of a thermal power plant at Aboadze in the Western Region. The government's efforts to modernise Ghana's important agricultural sector and encourage more of the country's younger generation into farming are also mapped out.
The Report: Ghana 2016 contains an in-depth viewpoint by President John Dramani Mahama, together with a detailed, sector-by-sector guide for investors.
It also features a wide range of contributions from other leading representatives, including the Minister of Finance Seth Terkper, the Governor of the Bank of Ghana H A Kofi Wampah, the CEO of the Ghana Tourism Authority Charles Osei-Bonsu and the CEO of Agility Geoffrey White. In addition, international personalities, including EU Trade Commissioner Cecilia Malmström and Lord Mayor of the City of London Alan Yarrow, give their views on Ghana's economic development.
Andrew Jeffreys, OBG's CEO and Editor-in-Chief, acknowledged that like many other emerging markets, Ghana had faced a challenging year, impacted by the slowdown in China, low demand in Europe and the rising US dollar. "However, as our new report shows, the long-term fundamentals of the country, which include a stable policy environment, a developed domestic financial sector and a wide range of natural resources, remain very attractive," he added.
OBG's Managing Editor for Africa Robert Tashima agreed that 2015 had brought challenges, led by the 'Three Ds' of depreciation, dumsor and deficits. "Yet a closer look at key sectors – such as energy, agriculture, telecoms and banking – reveals that an uptick in activity over the coming 12 months is entirely possible," he said. "If Ghana can navigate the fallout of the strengthening dollar and reduce the budget deficit, while still encouraging capital investment, growth should jump considerably in the medium term."
The Report: Ghana 2016 marks the culmination of more than six months of field research by a team of analysts from OBG. The publication assesses trends and developments across the economy, including macroeconomics, infrastructure, banking and other sectoral developments.
The Report: Ghana 2016 has been produced with the Ghana Investment Promotion Centre. Contributions have also been made by Liberty Capital, Deloitte and the law firm AB & David. The publication is available in print or online.
About Oxford Business Group
Oxford Business Group (OBG) is a global publishing, research and consultancy firm, which publishes economic intelligence on the markets of the Middle East, Africa, Asia and Latin America and the Caribbean. Through its range of print and online products, OBG offers comprehensive and accurate analysis of macroeconomic and sectoral developments, including banking, capital markets, insurance, energy, transport, industry and telecoms.
The critically acclaimed economic and business reports have become the leading source of business intelligence on developing countries in the regions they cover. OBG's online economic briefings provide up-to-date in-depth analysis on the issues that matter for tens of thousands of subscribers worldwide. OBG's consultancy arm offers tailor-made market intelligence and advice to firms currently operating in these markets and those looking to enter them.