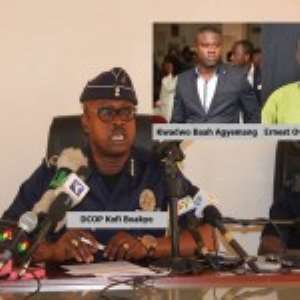 THE ASHANTI Regional police are hunting for the Member of Parliament (MP) for Agogo, Kwadwo Baah Agyeman, and Ernest Owusu Bempah of the National Democratic Party (NDP) over alleged inflammatory remarks.
The two personalities allegedly charged the people of Agogo to attack people of Fulani extraction in the area as a form of retaliation for the numerous atrocities that Fulani herdsmen had been causing to Agogo residents over the years.
There have been dangerous clashes in the area which had led to the shooting of a Fulani man and near lynching of a Konkomba native on Wednesday and Thursday respectively.
Tension was said to be high, which had eventually led to the clash after the two persons spoke at a press conference on Wednesday during which they purportedly declared war on the Fulani people.
ASP Mohammed Yussif Tanko of the Ashanti Regional Police Public Relations Office told DAILY GUIDE that the police believed that the clashes were sparked by the inciting remarks of the two men.
He said the police were therefore on the heels of Messrs Agyeman and Bempah to explain why they openly charged the people of Agogo to attack the Fulanis, which he claimed had created security problems in the area.
.
The police PRO announced that a joint police/military team would be dispatched to Agogo and the surrounding areas soon to help reduce the tension in the communities.
Meanwhile, a man believed to be a Fulani was shot and wounded during a gun battle at Asante Akyem Agogo on Wednesday evening, the police have announced.
The fierce gun battle between some Konkombas and Fulanis was so serious that it also resulted in the killing of cattle numbering about five.
Meanwhile, the Regional Security Council (REGSEC) is investigating whether the MP's purported statement had a link with the gun battle which led to the death of the Fulani.
DCOP Kofi Boakye, the Ashanti Regional Police Commander, has said that the police would not hesitate to apprehend anybody that would create security problems in the region, irrespective of the person's social status.
Addressing the media, he gave countless arrests that the police had made in connection with atrocities committed by Fulani herdsmen.
FROM I.F. Joe Awuah Jnr., Kumasi