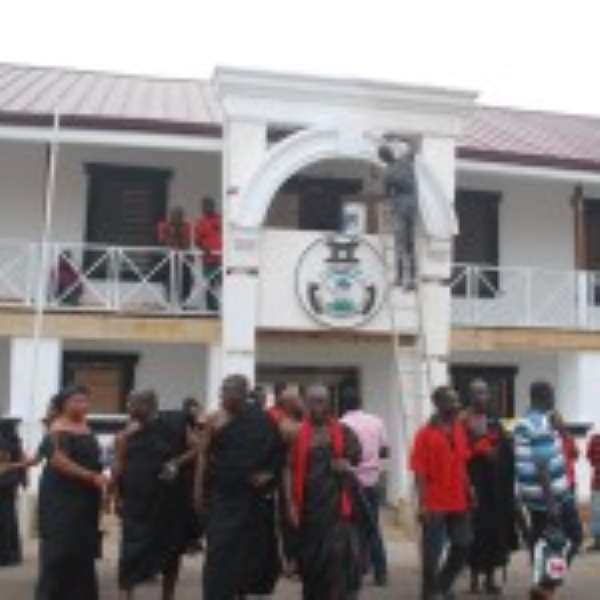 The Okuapeman Palace and offices of the traditional council are being refurbished to give the old building a new and admirable look.
The refurbishment of the palace and council offices located at Akropong in the Eastern region has been lauded by many residents.
Speaking to DAILY GUIDE, the acting President of the Okuapeman Traditional Council, Otoobour Djan Kwasi, explained that the renovation was part of preparations towards the final funeral rites of the former Okuapehene Oseadeeyo Addo Dankwa III.
He mentioned that the renovation work includes replacement of windows, doors, tiling of the entire ground floor of the palace, fixing of secure metal gates and general painting of the walls.
Otoobour Djan Kwasi, who is also the Adontenhene of Akuapem and Aburihene, expressed satisfaction with the progress of work.
He said the refurbished building would befit the status of Okuapem.
Otoobour Djan Kwasi also lauded the collaboration between the Municipal and Regional Security Council.
.
He added that the various funeral committees were also working tirelessly to give off their best.
A check with the Municipal Education Directorate at Akropong revealed that public and private schools would be on temporary break during the period.
Students of the Presbyterian College of Education at Akropong believe it would afford them the opportunity to study the traditions and customs of the people.
Most of the shop owners, drinking bar operators, food sellers and other ancillary service providers, mentioned that they had purchased adequate products to transact business.
The chairman of the Ghana Private Road Transport Union (GPRTU)-Madina-Akuapem, Atta Kakra was confident his drivers would also make profits.
He explained that the impressive funeral would attract many people to the area.
By Solomon Ofori