Africa makes little progress in economic integration - Vice President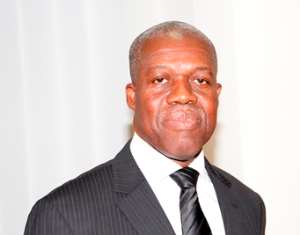 Accra, Jan. 27, GNA - Vice-President Kwesi Bekoe Amissah-Arthur on Wednesday stated that Africa had made little progress over the last 30 years in building structures that would enable it to stimulate economic growth.
He said it appears that the continent's focus and concentration were more on diplomacy and political rhetoric without a corresponding effort at the micro level to remove the barriers impeding trading relations.
Vice President Amissah-Arthur said this in a speech read on his behalf by Mr Akwasi Oppong-Fosu, Minister of State at the Presidency, at the 10th General Assembly of the Union of African Shippers Council (UASC), in Accra.
The Vice-President attributed the rather slow pace of attainment of the set objectives to external factors, such as the slower growth in China, India and other emerging economies, which have pushed down commodity prices and have negatively impacted some of the commodity exports.
'The price of oil for example has sharply declined over the last year making it difficult for existing, new and emerging oil producing countries in West and Central Africa to recoup the huge investments sank into exploration and exploitation.
'This has undoubtedly affected revenue inflows resulting in a fiscal imbalance in our balance of trade. Be that as it may, the objectives of our economic integration would have to be realised,' he said.
Vice-President Amissah-Arthur said it is imperative that a union like UASC, which seeks to harmonize the approaches at the micro level towards the integration of the economic systems and remove the bottlenecks impeding trade on the sub-region, ought to be encouraged to do more.
He said it was only at the level of their operations that the challenges of trade facilitation within the sub-region could be brought to the fore and be addressed through appropriate interventionist policies by the respective governments.
'…it is important for me to state that today, the wall-to-wall ideological confrontations on the broad issues of globalization, free-trade and the widening and deepening of the multilateral rule-based trade system have been overcome by a more pragmatic, balanced and result oriented posture,' he said.
'Indeed, within the framework of a new spirit of co-operation a view of trade liberalization that places premium on the eradication of poverty, the bridging of development gaps and the realization of the United Nations basic principles of human rights and good governance has taken centre stage.
'These should therefore be your guiding principles as you review your work of the last two years and chart a course for the ensuing years' he said.
The UASC member countries, made up of 18 countries from West and Central Africa, are attending the four-day meeting to take stock of their activities for the last two years and also plan for the years ahead.
GNA