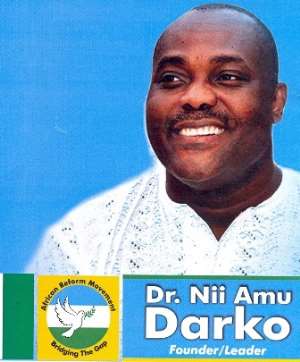 Accra, Jan. 27, GNA - Dr Nii Amu Darko, Founder and Leader of the African Reform Movement, a new political group in Ghana, has noted that the country has abundant wind and solar energy to generate electricity.
'Ghana has huge potential in renewable sources for energy security and cost, and there is the need to change the mix of electricity production,' he said.
Dr Darko made the observation in an interview with the Ghana News Agency in Accra.
He said the State Government of Victoria in Australia would build a 1200-acre solar farm with an installed capacity of 350 mega-watts, which is a third of Akosombo at the cost of 350 million dollars.
Dr Darko, a medical practitioner, in Australia said labour is very expensive in that country and the minimum wage in Victoria is 600 dollars per week of 38 hours.
'However in Ghana the minimum wage is 10 dollars per week or less, so we can build the same solar farm with 200 million dollars or less with no environmental damage.'
'Now we have bought a barge with accessories and installed capacity of 225 or 250 mega-watts for 500 million dollars. Then we will need fuel to power it to pollute the environment.
'With 600 million or less dollars, we may produce Akosombo on land with minimum running cost. What at all is wrong with our governments? Dr Darko queried.
He said energy security is equivalent to national prosperity and electricity must be available, adequate, appropriate and affordable.
Dr Darko said electricity could be generated from coal, hydro, gas and nuclear; 'but the average Ghanaian thought electricity is equal to hydro. We do not know of any other type and cannot think beyond hydro thanks to the politics of Akosombo'.
He said if Ghanaian governments were not fixated on hydro, Ghana could have built at least 5000 mega-watts capacity of energy with cheap coal from South Africa.
GNA