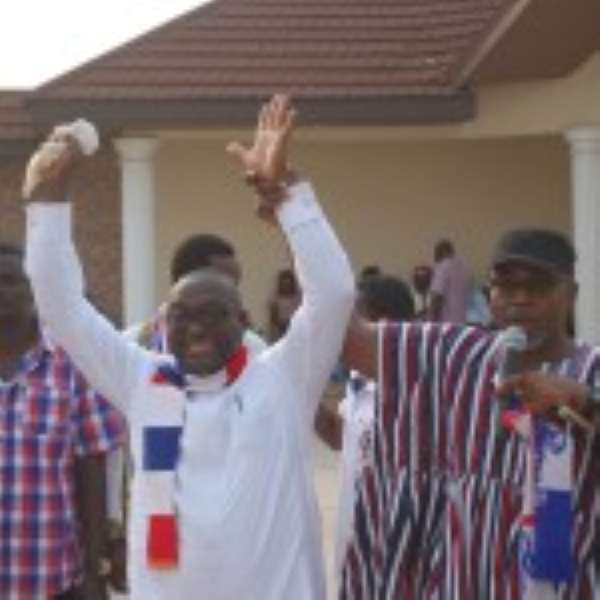 Chairman Acolatse introducing Laywer Buaben Asamoa
Samuel Yaw Buaben, New Patriotic Party (NPP) parliamentary candidate for Adentan, has launched his campaign for the 2016 polls.
The launch of the campaign indicates that the party is set to woo more votes to capture power from the National Democratic Congress (NDC).
The event, which was held last Sunday at a venue close to the party's constituency office at Ritz Junction, was attended by several party faithful and sympathizers, including former Member of Parliament (MP) for Adentan, Opare Hammond, Chairman Obri Yeboah, Nii Noi Adumoa and Newlove Morgan.
The Adentan Constituency Chairman Koku Acolatse, who introduced the parliamentary candidate to the audience, said the 2016 campaign message would basically focus on issues related to the economic crisis in the country.
Mr Acolatse averred that "we are ready to lead the people for the needed change by drawing their attention to the realities on the ground."
He added that all party faithful and those who share in their aspirations should join hands with the campaign team.
.
The chairman urged members of the party to remain focused and not to be distracted by any strategies the National Democratic Congress party (NDC) may adopt.
Lawyer Samuel Yaw Buaben aka YB reiterated that they would work with everybody during the campaign period, stressing that the slogan for the constituency is 'Adentan must win.'
He mentioned that Ghanaians need a change in leadership to develop the country's economy.
Mr Buaben gave the assurance that the Adentan road project started by the previous NPP administration would be pursued vigorously to beautify the area.
Speaking on the voters' register, Samuel Yaw Buaben indicated that the NPP is not at war with the Electoral Commission (EC) but wants a new register to give credibility to the elections.
Some party supporters, who spoke to DAILY GUIDE, said they would cooperate with the constituency campaign team to win more votes for the party.
By Solomon Ofori