Community leaders asked to help reduce bushfires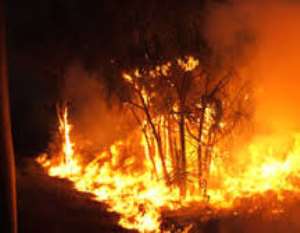 Mampong (Ash), Jan. 25, GNA - Community leaders have been asked to take the centre state in efforts at preventing bushfires - to stop the increasing devastation of the forest reserves together with food and cash crop farms.
A fire officer, Adolf Yaw Mensah, said chiefs, assembly members and the unit committees, should adopt effective measures to control reckless handling of naked fire in their various communities, particularly during the harmattan.
He made the call at a joint meeting held with 13 fire volunteer groups and other stakeholders including selected chiefs in the Mampong Municipality.
Divisional Officer One (DO1) Mensah, who is a member of the task force set up by the Ghana National Fire Service (GNFS) to investigate and find ways to tackle the annual bushfires, said all must be assisted to do the right things to avoid starting these fires.
The task force is touring all parts of the country and had already visited the Volta region.
He advised farmers to make sure that they engaged trained fire volunteers in their land preparation ahead of crop planting.
He expressed concern about the activities of the Fulani herdsmen, blaming them of some of the wildfires and urged the assemblies to act decisively to deal with erring herdsmen
The Ashanti Regional Fire Officer, Mr. Semekor Fiadzo, underlined the need to reactivate dormant fire volunteer groups in the communities and encouraged farmers to offer themselves to be trained as volunteers to protect their own investments.
GNA