NDC Is Incompetent; Bawumia Goes Wild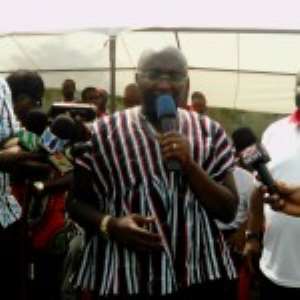 Dr Mahamudu Bawumia
NEW PATRIOTIC Party (NPP) vice presidential candidate Dr Mahamudu Bawumia has once again descended heavily on the ruling National Democratic Congress (NDC) administration.
Without mincing words, he described the NDC government as incompetent, insisting that the President Mahama-led administration should be blamed for the economic woes that have hit the country.
Dr Bawumia was of the view that the numerous problems that have become an albatross around the neck of the country could have been avoided if a competent government were occupying political office.
From all indications, he stated, the NDC government doesn't boast of the human resource that can implement policies and programmes to return the country onto the path of prosperity.
It would be recalled that President Mahama became peeved following the continual description of his government as 'incompetent' by scores of leading members of the NPP, Dr Bawumia in particular.
President Mahama, who was perhaps fed up with the NPP's tagging of his government as incompetent, during a party programme, jabbed the NPP, notably Dr Bawumia, claiming that he had no right to label his administration as an incompetent one.
.
In his view, former Presidents Jerry John Rawlings and John Agyekum Kufuor, who have occupied the presidency before and know the challenges that go with the enviable seat, are the only people who can label him as such.
But Dr Bawumia, addressing hundreds of head porters also known as 'Kayayie', stated that the NDC administration is filled with incompetence, stressing that there is no way Ghana can be developed under the NDC.
The NPP vice presidential candidate was speaking when he joined Nana Addo Dankwa Akufo-Addo and other NPP stalwarts to visit the Dagomba Line, a slum in Kumasi occupied by head porters, which was gutted by fire recently.
Dr Bawumia stated that Nana Akufo-Addo would, in a few months' time, ascend the presidential throne and initiate effective programmes that would go a long way to revamp Ghana's crippled economy.
He urged the head porters whose wooden structures were gutted by the fire to take heart, assuring them that the NPP would assist them in diverse ways to get their lives back.
The NPP used the occasion to present 100 bags of cement and other valuable items to help the fire victims to reconstruct decent accommodation where they can live comfortably.
FROM I.F. Joe Awuah Jnr., Kumasi