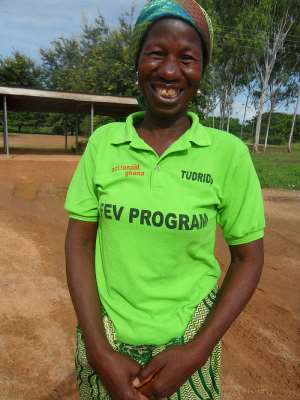 A flashback to my elementary agriculture science text book reminds me of some terms used in the book such as horticulture, mix-farming, animal husbandry etc., with the basic definition that: "Agriculture is the production of crops and the rearing of farm animals."
In the various text books, we read that agriculture is the backbone of the country's sources of income with respect to notable crops such as cocoa and cotton. Indeed, agriculture has supported the economy, as well as provided a lot of job opportunities for the youth. No wonder the government of Ghana in connection with the Ministry of Food and Agriculture (MoFA) currently runs an initiative called, Youth in Agriculture Programme (YIAP) with the objective of motivating the youth to accept and appreciate farming as a commercial venture, thereby taking up farming as a life-time career. Despite these interventions by government, one dire issue persists… gender discrimination, which I believe must be critically examined in the agricultural sector.
Women are mostly involved in both crops and animal production at subsistence or commercial level, working either on their own as unpaid workers on family lands, or as paid or unpaid labourers on some agricultural enterprises. They are just as efficient as male farmers, however due to lesser control over resources such as land, women farmers tend to produce less yields.
Obviously, access to land is a basic requirement for farming, and control over land is usually synonymous with wealth, status and power, especially in our part of the world.
Women in food basket regions - parts of Ghana where agriculture is the mainstay - are sometimes marginalised in the equitable distribution of land, causing them to have little access and control. Strengthening women's possibilities to own and access land is as important as raising their status and influence within households across communities.
We can have a direct impact on farm productivity when we improve the level of access to and security of land tenure for women. Unfortunately, some negative cultural practices are inhibiting women from owning or having direct access and control over land.
According to the Food and Agriculture Organisation (FAO) women across all developing regions are consistently less likely to own or operate land. They are less likely to have access to rented land, and where they do have access, the lands are of poorer quality and very small in size.
One important thing to note is that the world's population is increasing steadily. The FAO estimates that the global population increases by 90 million annually, with majority of growth occurring in developing countries such as Ghana.
With this increase, food insecurity will only continue to worsen with more people likely to suffer from malnutrition and hunger.
According to the FAO, food production will need to double to meet the exponential population growth. Therefore, now more than ever, there is the need to invest extensively in food production to be able to feed the world's rapidly increasing population.
Increasing crop production is very crucial to achieving food security, rural development and the conservation of natural resources amidst threatening climatic challenges. FAO addresses this in their new strategic objective; calling for sustainable intensification of crop production and its contribution to food security and rural livelihoods through sustainable farming practices. Increasing the overall productivity of food production can only be possible if both men and women are given an equal playing field in the sector.
Discrimination against women in agriculture, especially smallholder women farmers, is a serious injustice which must be eschewed. There is a widening gender gap that exists in land acquisition, access to modern inputs, seedlings, education, livestock, financial and extension services that are against women. Women therefore have the least access to these means of increasing yields and find it impossible to move from the "stone-aged" subsistence farming to market-oriented production. This gender inequality hinders productivity and reduces women's contribution to the agriculture sector and to the achievement of broader economic and social development goals.
Farming in Ghana, unfortunately, has remained a male dominated occupation with women playing very limited roles in the sector. Although the Women in Agricultural Development (WIAD), one of the technical directorates of MoFA, is doing well to fulfil its mandate of mainstreaming all agricultural policies, programmes and projects through the implementation of the Gender and Agricultural Development Strategy (GADS) for the sector, I believe they have more work to do in order to make this great strategy a reality. In some parts of our country, especially the Northern part, it is culturally unaccepted for a woman to own a piece of land, making it difficult for them to possess and control their own farms. In recognition of this, ActionAid Ghana has supported 3000 smallholder women farmers in northern Ghana under its Women's Rights to Sustainable Livelihood Project. The project has benefitted women farmers in the Nanumba North and South districts, as well as Talensi and Nabdam districts of the Upper East region, and helped to boost their capacities for productive and large scale farming.
Through sensitisation, these smallholder women farmers now demand from stakeholders the attention that would enhance their participation in agriculture.
Using women like Marimah Seidu, ActionAid Ghana has formed a Female Extension Volunteers (FEV) project to supplement MoFA in some of the rural communities to carry out their extension services. These farmer networks and Community Listener's Clubs, located in the Upper East Region, give information to farmers, especially women, in remote areas through radio programmes with the aim of educating these women farmers on methods that can lead to increased productivity such as introduction of compost farming instead of fertilisers.
The new Country Strategy Paper V of ActionAid Ghana also further highlights the importance of prioritising the growth and empowerment of women farmers, as captured in its first mission objective; "To promote Climate Resilient Sustainable Agriculture (CRSA) and women's secured access to and control over land and other productive resources".
Key results areas for the next 5 years will involve supporting 100,000 smallholder women farmers to secure and obtain direct backing from government and its policies and programmes to improve food security.
It is in light of this that I humbly call on WIAD and other agencies interested in developing women in agriculture to intensify their support for our women. Eradicating gender discrimination is key to increasing the supply of food and income for development.
Foster Adase-Adjei
Marketing Officer
ActionAid Ghana.