Mamprugu Says Thank You Mr. President: But Enough Of The Tokenism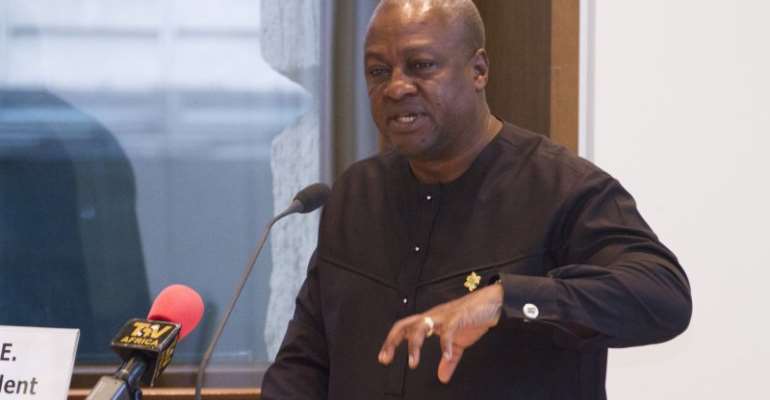 The latest reshuffle of government appointees and ministers has left many people at sea as to the true motive of such an exercise at this juncture. The million-dollar question that begs for answers is whether this reshuffle was done with the interest of the people of Ghana in mind, or whether it was done for political expediency so as to enhance the crippling and ever-diminishing chances of the NDC and President John Mahama.
The people of Mamprugu have gotten the answer to the question posed above. The reshuffle is politically expedient in the thinking of President Mahama and his NDC. Majority of us in the great Mamprugu kingdom believe that President John Mahama only sees us as election winning machinery undeserving of development or political appointment.
However, when information begin to get to them about the intentions of the people to pay them back in kind in the upcoming elections for neglect, then President John Mahama is 'kind' enough to give us a token- a nine month Northern Regional Minister in the person of Hon. Abubakari Abdallah.
For the eight years that NDC has been in power, no one from Mamprugu has occupied any meaningful position in government, especially under President John Mahama. It must be noted that there are three major kingdoms in northern Ghana in terms of heritage, dominion and population. These kingdoms are Mamprugu, Dagbon and Yagbon. The President of Ghana is a proud son of Yagbon just like Hon. Limuna, John Jinapor etc. They all occupy sensitive positions in government. Dagbon is represented in government through appointees such as Hon. Haruna Iddrisu, Hon. Inusah Fuseini, Hon. A.B.A. Fuseini, and Hon. Mohammed Murtala etc. Until this week, Mamprugu had only one deputy ministerial appointee in John Mahama's government. It is instructive to note that no Mamprusi, or, anyone from Mamprugu has served in both President Mills and President Mahama's Cabinet for the last eight years.
Before the emergence of Dr. Mahamudu Bawumia, the Mamprugu constituencies were a 'no go' area for NPP. However, in President Kufuor's Cabinet, Hon. Hajia AlimaMahama, a proud daughter of Mamprugu was a regular feature. Hon. Ben Bukari Salifu, Awudu Yiremeah etc were also Regional Ministers. The difference in treatment of the NPP government then, and the NDC government now, lies in the fact that whereas the NPP sees Mamprugu as a partner in development, the NDC only sees Mamprugu as an election winning tool.
The NPP appointed sons and daughters of Mamprugu into key positions without recourse to the political capital it will score. The NPP constructed our roads as a duty unto them but not for electoral gains. The NPP gave as Nurses Training College without us even asking. The teaming youth of Mamprugu were employed under NPP, most of whom are now unemployed under President John Mahama.
We the youth of Mamprugu are aware that there is a scheme designed by the NDC and especially President John Mahama to do whatever it takes to win all the five seats of Mamprugu- the backyard of Dr. Bawumia in an attempt to 'humiliate' him. We are aware that the President remarked in one of such crunch strategic meetings that "I prefer to win all the Mamprugu seats and lose the general elections than to win the general elections and lose the Mamprugu seats". Why is President John Mahama so desperate for our seats?
Has Tullow discovered oil reserves in Mamprugu that we don't know of?
If Mamprugu is such an important kingdom to him and his party, why have they abandoned the numerous road projects initiated by the erstwhile NPP administration?
Why did it take John Mahama and NDC more than 7 years to recognize a citizen of Mamprugu capable of manning a ministry as the substantive minister?
Why is it that the Walewale-Bunkpurugu road which he promised in 2012 to complete by 2014 if given the mandate has not been started after almost completing his tenure?
Where is the Midwifery School he promised the people of Walewale to be precise?
Why is it that President Mahama is not interested in the clinker deposits in Gbangdaa after several appeals to him?
Why it is that he is willing to violate his own party's constitution just to field a parliamentary candidate who he believes will pose a major threat to the NPP's Dr Sagre? If the people of Mamprugu come into contractual agreement with him and his party, won't they violate the terms of the contract like they've done to their party's constitution by fielding an ineligible 2012 PNC Parliamentary Candidate as NDC candidate for this year's elections?
Were there not more qualified NDC members who have toiled with the party since its inception and are more competent for him to appoint as ministers instead of the latter day saints like Hon. Abubakari Abdallah?
Why did Hon. S.S Nayina not last long as the Northern Regional Minister? Why was he not reshuffled to the Jubilee House like all others under his government?
How many citizens of Mamprugu have been appointed as Board Members or Chairmen of Boards in his government? How many have been appointed Ambassadors or High Commissioners?
Why is it that no one from Mamprugu has been given scholarship under GETFUND since he came to power? Is it because we are not worthy of the scholarship or it is a deliberate act to curtail the growth of Mamprugu intelligentsia?
Does he really think we will make another mistake by trading a Vice-President and possible Cabinet Ministers for a token as a nine months regional ministerial appointment?
If the appointment of Hon. Abubakari Abdallah is not a token to the people of Mamprugu and is also not for political expediency, why was he not appointed as the substantive Minister for Agriculture so that he will get the opportunity of serving in your cabinet as a representative of Mamprugu? and finally;
If he truly believes that being Vice-President and now President has been a blessing to especially the people of Yagbon, why is it that he is bent on scuttling the chances of a citizen of Mamprugu ever ascending to his position so that he will also be a blessing to us?
If the president and the NDC are able to answer these questions creditably, we might contemplate voting for them. However, I'm assured that if ever they dared answering these questions posed above, their performance will be worse than they've managed in the economy.
In conclusion, I want to call on the people of Mamprugu to rise up and be counted. Let us send a strong signal to politicians that we have grown in politics and are not prepared any longer to accept tokens as our share of the national cake. Let us also rally behind our kinsmen vying for positions at the top and not our kinsmen willing to accept tokens from the top. NDC and John Mahama have betrayed the trust we had in them. Our kinsman, Dr. Bawumia without any doubt will relieve us from our hardships and neglect if elected into power. Let's support our own that is competent. Doing so is not tribalism but realism. Supporting a tribe's mate who is incompetent and corrupt is tribalism.
DR. BAWUMIA WILL NEVER BE SHAMED. INSHA ALLAH.
Long live Mamprugu, Long live Dr. Bawumia and Long live Ghana.
Seidu Banse