SOSEC's 'SOS' to government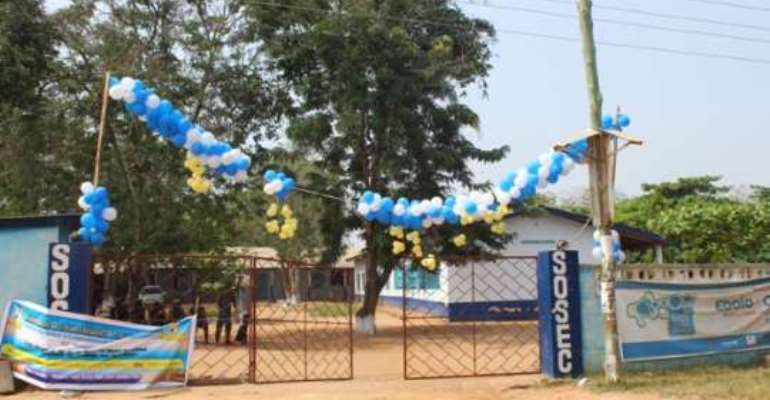 Agbozume (V/R), Jan 21, GNA - Stakeholders in the Some Senior High School (SOSEC), one of the oldest senior high schools in the Ketu South District have appealed to government to help address the infrastructure deficit in the school.
The school, which would celebrate its golden jubilee anniversary this year, lacks a decent administration block, science and computer laboratories, and an assembly hall.
It has no teachers' bungalows, a situation which has compelled the housemistress to share the dormitory block with students.
Close to 1,000 of its boarding students depend on a borehole for water and use an apology of a pavilion as a dining hall, which students use in turns due to its small size.
At the launch of the School's 50th anniversary celebration, the teachers and students appealed to the government to help address these infrastructural limitations to give the school a modest dignity.
Mr Mark Adade, President of the Old Students Association, said it was unfortunate that the student population was increasing yearly, but no attempt had been made to improve facilities in the school.
'It is unfortunate our school has nothing to show in 50 years though it is producing quality human resource,' Mr Adade stated.
He said the past students were working to beautify the entrance of the school to befit its status and called for support from other stakeholders.
Mr Adade announced an award scheme to inspire academic excellence and promised the Old Students Association would explore means to provide science and computer laboratories for the School.
Mr Albert Agbesi Wornyo, Guest Speaker at the anniversary launch, noted that the deprivations in the school were so grave that a major transformation was needed to erase the bad image associated with it.
Mr Kwamigah Ahafia, Headmaster of the School, said the administration block, which was constructed 50 years ago, has leakages, inadequate space, decaying props, poor ventilation and outdated electrical wiring system.
'Problems of the administration block, for example, are metaphorically competing with mice and cockroaches that always resist any quit order,' he added.
Mr Mawusi Alex Buadi, acting Volta Regional Director of Education, said irrespective of the challenges, SOSEC established itself as a cradle of education in its own right among Senior High Schools in the Region.
He therefore tasked the stakeholders to generate innovative ideas to transform the School.
The school will have its golden jubilee celebration in July, on the theme, 'Fifty Years in the Life of Some Senior High School: The Impact on National Development, the Challenges and the Prospects.'
GNA