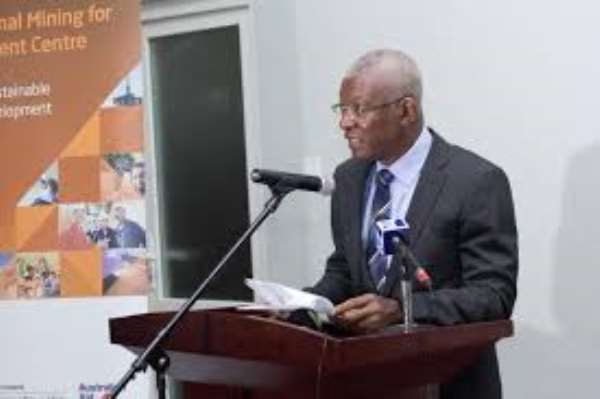 Nii Osah Mills
The Minister of Lands and Natural Resources Nii Osah Mills with his deputy Hon. Kwabena Mintah Akandoh on Friday, 15th January, 2016 paid a day's working visit to Obuasi.
The Minister held series of close door meetings with Executives of Anglogold Ashanti, Obuasi Municipal Assembly and Small Scale Miners Association.
In a press briefing, Honorable Osah Mills told media men that the purpose of the visit was to acquaint themselves (the Ministry) of the relationship that exist between Anglogold Ashanti, Obuasi Municipal Assembly and the Small Scale Miners in Obuasi.
He, again revealed that the Ministry was aware of the demonstrations by the Small Scale Miners in the latter part of last year which was basically about their access to lands for mining activities .This he opined formed the basis of their visit.
The Minister reiterated the fact that Anglogold Ashanti (A.G.A) is shedding a total of 275 square kilometer which constitutes about 60% of their total concessions to the Government of Ghana and until the processes are finally concluded, the Mining giant still remains the custodian of the leased land.
Hon. Osah Mills who did not give any timeline to resolve the impasse said the Ministry will take steps to engage various stakeholders, to which he posited will demand a lot more work to be done to come out with a firm conclusion.
The Minster of Lands and Natural Resources further appealed to the executives of the Small Scale Miners Association to stop demonstrating and have trust in authorities to bring a permanent solution to the issue at hand.
Hon. Kwabena Mintah Akandoh, the Deputy Minister of Land and Natural Resources assured the various stakeholders that the Ministry of Lands and Natural Resources is duty bound to ensure that a "win-win" resolution is brought to the matter.
He promised that the doors of the Ministry are always opened to petitions from aggrieved members of the community and did not mince words in re-echoing the fact that, the Ministry is committed to bring a lasting solution to the impasse.
On his part, the chairman of the Small Scale Mines Association of Obuasi, Mr. Kofi Adams thanked the Minister for his visit and was hopeful that the "government will stick to its words to intervene in the matter. "He however debunked the notion that his group and its members are not registered and are operating illegally.
The Municipal Chief Executive for Obuasi, Hon. Richard Ofori Agyemang Boadi told Media men that the presence of the Minister and his entourage in Obuasi is a vindication that the Municipal Assembly is committed in its quest to resolve the impasse.
A representative of the Regional Co-ordinating Council, Officers of the Obuasi Municipal Assembly, Executives of Small Scale Miners Association and the Media were all present.