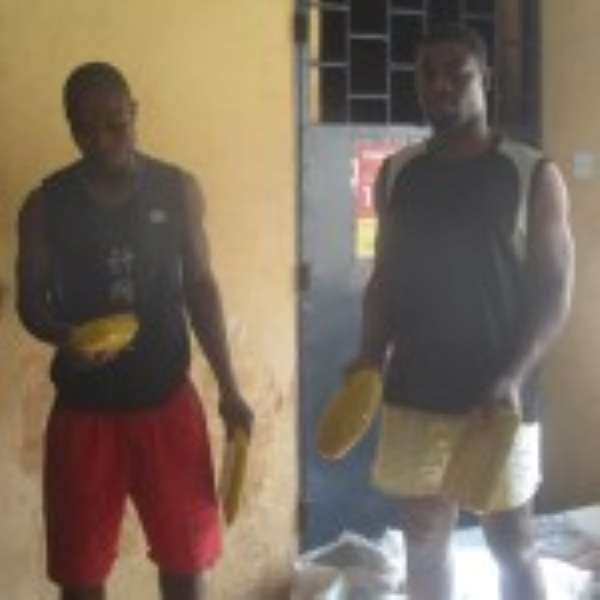 THE AFIENYA District Police have arrested two suspected drug dealers and recovered 500 parcels of compressed dried leaves suspected to be Indian hemp.
Isaac Bedzra Dodzi, 26, a driver, and Martin Ayisu alias Toni, 28, electrician, were arrested at Mataheko on the Tema-Akosombo highway with the wee while one Emmanuel Kofi Kumah, an accomplice, is on the run.
The police have also impounded the two taxicabs, an Opel Astra with registration number GW 9353 V and a Hyundai Elantra, also with registration number GE 8078-13, which were stuffed with the slabs.
The suspects were believed to be transporting the 500 slabs of suspected Indian hemp from Germeni in the Volta Region for onward distribution to clients in Accra when they were accosted.
Chief Superintendent of Police, Samuel Kwesi Ofori, the Dodowa Divisional Police Commander, speaking to DAILY GUIDE, said the suspects were arrested at about 1:20am on January 14, 2016 by a police patrol team led by the Afienya District Police Commander, DSP Charles Obiri.
He explained that the patrol team spotted the two taxicabs around Afienya and signalled the drivers to stop but on seeing the police, they made a U-turn and sped off in different directions.
C/Supt Kwesi Ofori continued that the police then pursued both vehicles from different angles until the suspected wee dealers abandoned the cars loaded with wee at a lake at Mataheko and took to their heels.
The suspects were pursued by the police and two of them were arrested and sent to the Mataheko Police Station for further investigations while the third suspect managed to escape, according to the police chief.
.
He pointed out that a search on the two taxicabs revealed the 500 slabs of compressed dried leaves covered with some brown plastics and concealed in sacks.
He said while some of the slabs were hidden in the boot of the car, others were on the passenger seat.
The commander further revealed that the compressed dried leaves would be taken to the forensic laboratory of the Ghana Police Service for examination.
C/Supt Kwesi Ofori said the suspects were being processed for court while investigations continued.
On his part, the Afienya District Police Commander seized the opportunity to commend his police personnel for their professionalism, vigilance and bravery.
From Vincent Kubi, Mataheko