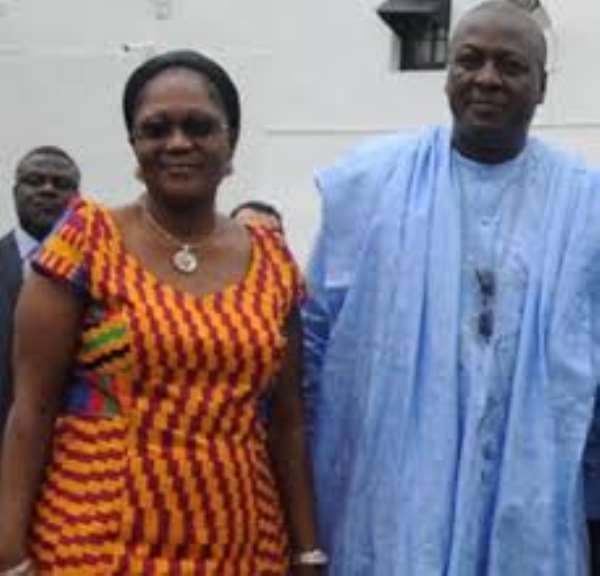 We members of the National Democratic Congress, Germany Chapter wish to react to a statement released by one faceless supposed former coordinator of the Lordina Foundation in the Brong Ahafo Region by name Hajia Barakisu Amadu. The statement is not only false but extremely uncivilized, distasteful and malicious. It has been well calculated to tarnish the image of the first family of our land. Such statements must be condemned by all Ghanaians who want Ghana and our politics to be devoid of such attitude and language that negatively portray our culture as uncivilized.
All well meaning Ghanaians should ignore that false article trending. This is because the authors of the article, Hajia Barakisu and Tony Kaufmann are faceless. Hajia Barakisu is said to be the founder of the Brongkyempim Mma Fekuo in Europe. She is reported to have addressed the citizens of Brong Ahafo in Dortmund, Germany over the weekend.
We want to state here that there is no known person by name Hajia Barakisu who is a member of Brongkyempim Mma Fekuo in Europe and let alone the founder. She is not known in Germany neither is she known in the United Kingdom. The first chairman of Brongkyempim Mma Fekuo in Europe was Nana Okrah Gyemfi who is presently resident in Bremen. Nana has confirmed on authority that there was no such person and let alone a meeting in the name of the union in Dortmund. There is no Brongkyempim Mma Fekuo in Dortmund and so the members there attend meetings in Oberhausen. Also there was no such meeting held in Dortmund and even in Bielefeld, Mulhiem or Essen in this New Year as confirmed by Mr. Samuel Ntiamoah(017640371623). Further checks from other city executives, Mr. Appiah-Koran (Munich-017673989373), Dr. Yaw Prince Agyeman and Mr. George Nyarko(Berlin-01773398198) indicated that the so called hajia Barakisu is faceless and not known.
Our checks from T-Mobile Telecom to enable us get to know the ownership of the contacts provided proved that the contacts were fake and unassigned. In Germany, there is no single telephone line that is not registered and therefore tracing a line is the easiest thing that can be done.
This article is therefore said to be the brain works of some treacherous and mischievous dark minds that have an agenda to ditch the hard earned reputation of the first family. The Lordina Foundation has touched lives and continues to transform lives in very rural and even urban centers. We have the belief that the good works of the foundation speaks and is been felt by the marginalized and no amount of bad reportage can change it. Its sad that we are allowing desperation to set into our politics and we are throwing away civility to the dogs.
The good people of Ghana are entreated to ignore the story and treat it with all the contempt that it deserves. In other words it should be taken with a pinch of salt. Remember, truth will always stand.
Long live Ghana
Jerome Kpan
German Chapter Secretary
+4915210246793